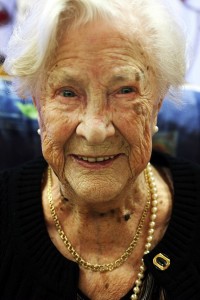 On Sundsvall Tidning website you can now read about our oldest Holmbo Kristina "Stina" Lindgren. Newly filled 102 years old, she left us on the eve of Epiphany.
Stina has over the years done much Holm district. Among other things, she was the Protocol at the very first meeting and the creation of Holm Sportklubb. At club activities, she was one of the driving forces and was later also appointed an honorary member of the association.
Read more about Stina Lindgren in today's feature on ST.nu.
.
Past articles by Stina Lindgren in Sundsvall newspaper with asian. 100-celebration:
2006: "Stina Lindgren filled 97", "Great Fishing on the excursion at Dacksjötjärn"
2007: "Stina, 98, dream of flying"
2009: "Stina 100 years and the oldest in Holm parish"
2010: "Stina fills 101 year, "101-year Stina oldest in Holm"
2011: "They are the oldest in North West"