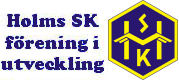 Holm SK is now taking a well deserved summer break after a nice victory away today mo Sidsjö-Pasila IF. That puts the team to a second place in the table when the autumn round kicks off again on 1 Augusti on Holmvallen.
"Following the recent loss of the match against Alnö it was a revenge craving Holm SK who stepped into the Sidsjö Vallen for the match on Saturday. The squad was once again full and the coach, Thomas Åslin, had pleasant problem taking shape their line-up…"
Read the abstract on holmssk.se / alaget.
Table, statistics and upcoming matches.
Division 5 on Lokalfotbolen in Medelpad.