Friday: Holms SK – Ånge IF 2 0-0
Saturday: HSK-Söråker FF 2-0 (Maina, Moradi), Svegs IK-HSK 1-1 (Olsson)
Holm SK came second with 5 points in their group Berners Cup. See group table below.
1 Svegs IK 7p
2 Holms SK 5p
3 Ånge IF 2 2p
4 Söråkers FF 1p
Read abstracts from Cup. HE all group results.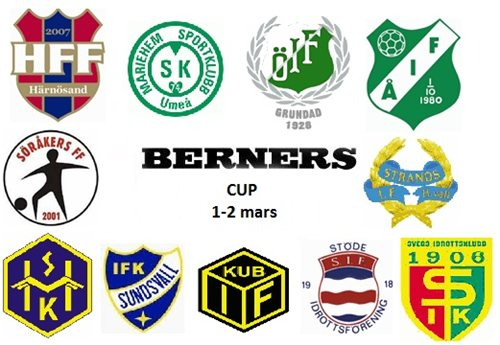 Holm SK revving up the tempo of pre-season training by participating in Berners Cup Steamers this weekend. Cup played on artificial turf with teams from different series, both within and outside the county. Holm SK take on the home team Steamers tonight! 17:10 and meets Söråker FF and Svegs NS tomorrow.


See match program on the A-team's website, holmssk.se / a layer.
Before the season 2013 Holm is the Son of Pontus Maina taken more responsibility and shall support Thomas Åslin as assistant coach. Read the interview from the website listed for the Cup with Maina.
Before the season 2013 går det för första gången att sätta en slant på Holms SK och samtidigt stödja klubben. Välj fem spelare i du tror generar flest poäng under året. Anyone who dumps Holm points harvesters best wins a soccer trip to England, value 4100 kr!! Tvåan får gratis inträde på Holmvallen hela nästa säsong och fler priser finns att sukta efter. En tipparliga med Holmfansen kommer att uppdateras eftersom på en helt ny egen Holmspelhemsida under säsongen där man kommer att kunna följa se vem som tipppar bäst. Tip coupons will go on sale in March-april. Redan nu går det dock att boka in sig på ett spel. Read more here.