Update: A number of events submitted by Gimåfors Bygdegårdsförening uploads.
Some have missed it, but the whole Holm has thus completely your own calendar and it's warm welcome to all associations, companies and others. uses kalenden this website, to disseminate their results and avoid conflicts with others in planning.
So as soon as you come to the dates of meetings, events and the like so notifies Association / choir / congregation / company etc.. it immediately at Holmbygden.se / calendar.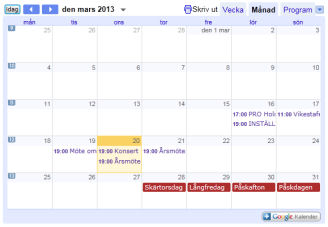 To the right you will see Holm district's calendar in miniature and it goes to enlarge, browse and enter events on the direct link Holmbygden.se / calendar.
The calendar is also visible with the coming events at home to the right and to the link above enlarged view recent events.