UPDATE!
On Wednesday, again bookmobile to Holm. Now mobile library timetables with stops and information on a separate page following the Service.
Mobile library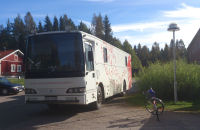 As a rolling public library bookmobile will turn around Holmsjön with stops here and there in the villages. Here you can find among others. Timetable, opportunities for extra stops, and if you want to borrow a particular book. Read more.
Contact:
Such. 070-660 42 32, bokbussen@sundsvall.se.