Security Group Indal Liden invite to the safety tour and mapping. Time / Location: Monday 29 April at. 1900, Församlingshemmet.
Safety group comprises representatives from Culture & Leisure, Children and Education, police, Swedish church and PRO. Although rescue services involved.
Unfortunately, they do not on their own advertised here, thereof late information.
Read more by clicking and enlarge the appropriations below: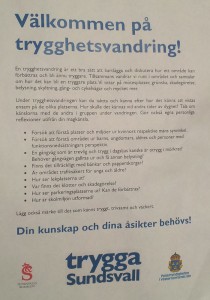 Unfortunately, the security group is not alone announced here, thereof late information.