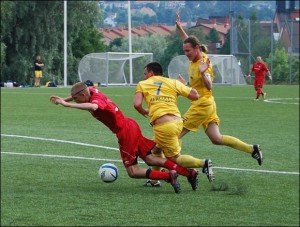 .
See Patrik Mattsson's ugly (but välmaskerade) overrun by the judge failed to read about yesterday's game against Granlo BK on Lokalfotbollen.nu. Click here.
.
Enlarge image.
.
---
Tabell Division 5 Gentlemen 2013Basic game ends at 15 played games and, based tabelläget today, it is almost clear that Holm SK takes the A-finals. Much to be to change the, but every point is still important to get from the base game.
Unlike previous years, with a standard "straight" series, this year a basic game and a playoff game in Division 5. Left by Division 5:s basic game remains now three games Holms SK now that the fall season just kicking off. Autumn playoffs in Division 5 however, will be adjusted from the original idea for decision Medelpads Football Association (MFF).
FIFA autumn
Following Essviks AIF's left the show MFF reevaluated its decision that the series would be divided into three playoff teams in the fall and made the following decisions regarding division 5 Men 2013;
– to the playoffs in div 5 shall consist of two groups
– that the groups will be called div 5 falt (was 1-8) and div 6 fall (was 9-16)
– that all teams bring with them 75 % of the scores from the base game into the playoffs
– that all teams bring their whole goal difference from the base game
– the playoffs start Sunday 25/8 and playing 5 Sundays forward
– the final round will be played 5 and 6 October, div 5 on Saturday 5:e and div 6 on Sunday 6:e.
– was 1-4 in each group benefit from extra home game and starts at home first round
Up- and relegation before 2014
– 2 Teams relegated from div 4 the div 5
– 2 team moved up from div 5 the div 4
– no team go out of div 5 fall
– teams in div 6 autumn vying rise to div 5 under current conditions facing 2014 – As usual, the above are affected by what happens in the overlying series
Autumn match program, trainings mM. can be found at holmbygden.se / table