For many years has indicated bookmobile maintained library service in Gimåfors. When Ånge Municipality now decided to discontinue its mobile library operations will therefore Sundsvall mobile library to visit the community center in Gimåfors once a month.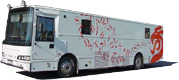 The following times apply:
Wednesdays 14,20-14,45
Date of autumn: 4/9, 2/10, 30/10 and 27/11
Are you missing library card at Sundsvall library we will do it dierkt in bus. Welcome!