Today the required care and to look up what it has to do with the mortgage business in Holm. Despite all the headlines with Aros Energy declarations and Johan Stendahls old "Skandalhus" this fall, as the company continues to try to buy new homes in Holm. In the fall, they have been mentioned, including the tender fraud to the Migration Board, Malpractice own foreign staff, authorities orders, tenants neglected and mismanaged properties.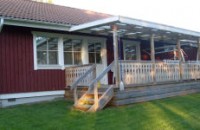 As recently as just over a week ago called Bengt Staaf the condominium compound "Newbuildings" at school Anundgård and wanted to buy a vacant 4:a where. It was the fourth time in succession that Aros Energy declarations were trying to get over the apartment through different people. Earlier this autumn, has tried to buy it by Fredrik Wedelstam who was CEO for only one week (!) and "Pär Karlsson", an alias Johan Stendahl said to pretend to be. When brf:Holm and a trustee Castor suspected irregularities, could not get a straight answer, and it was constantly suspicious circumstances, they chose not to sell to them. So it was this time, and the question of whether it concerned Aros Energy declarations were the buyer and the purpose of apartment purchase, floated it again on the answers.
Equally unclear told it was the end of August when HBU contacted Bengt Staaf about a power outage in their (Li's wife and father-in-Bernts) real estate "Senior home". It was then an undisclosed person who could not be named who would be contacted about problems. Aros Energy declarations had Bengt Staaf only heard of even though it asked for the rent of their own tenants. A few days later offenliggjordes Migration Board allocation decisions for Aros Energideklarationers asylum accommodation property. A few weeks later, Bengt Staaf deputy director of the company and two months later, in October, he was in addition a majority owner of Aros Energy declarations (which also owns "Teachers' residences").
Aros Energy declarations and Bengt Staaf despite recurring orders and letters have not fulfilled their commitments of either the authorities or their tenants. Deficiencies with black mold and ventilation available, they have not done anything about. Nor shoveled and sanded it today at Senior Home, which the owner is legally required to do. Bengt Staaf is enlightened about the problems and have promised that they will be arranged, but even though they own the property, nothing has happened in the winter.
On the day before Christmas Eve, however, were the inherent child family i Anundgård statement by board member Michael Sterner that they must move out. The company has repeatedly tried to get the family in different ways. Last summer, they paid no power so they were without power at home for two (!) weeks and the laundry room was turned off for several months. All this despite the fact that the company has no right to force the family, when they are called tenure and legal right to dwell. Even Johan Stendahl himself and Pia Karlsson has been in contact with the family and tried to get them out, although they "no longer has the properties to do".
This time the blame Aros Energy declarations on an order from the Environment Agency that among others. replace windows in the family home and then fits once again try to force families with children to move out. Renovations can be done without moving out.
"New CEO for Aros Energy declarations", "House gets a sales ban", "Stendahl in court"
Read related news in other media last month.
.
The new build apartment at the housing association chose instead to sell to a family with children moving to Holm in days. Welcome to Holm!