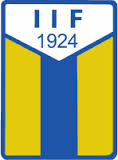 Imorgon är det böndernas kamp om vilken klubb som får kalla sig skogens konung. Holm och grannarna Indal från "tok-sia älva" inviger på lördagen 12:00 gräsmattan på Holmvallen under strålande sol i vårvärmen.
A warm welcome!
Inte bara match
Ej att förglömma oavsett intresse för den glänsande fotbollen, är att serveringen självklart är öppen! Come, träffa folk och köp en hamburgare eller kaffe.
Ett roligt sätt att stödja föreningslivet i Holm – holmssk.se/g5
Inte mindre är det ett lysande tillfälle att analysera förmågorna i laget och delta i årets "Guldfemman-tävling". Du väljer ut fem spelare i laget som du tycker ser extra lovande ut, then you are in a competition for squeaky prices, t.ex. en Premier League-match eller en musikal. Brochures for the competition will be at Holm Vallen. You can also read about this year's teams and make a series right here on the Internet; holmssk.se/g5 (price: 160 kr)
New players in this year's Holm squad

One of the new players this year, Jesper Eliasson, a Holm-son and returnees to the club. Here is a short interview before the season in yesterday's first grass training at Holm Vallen.