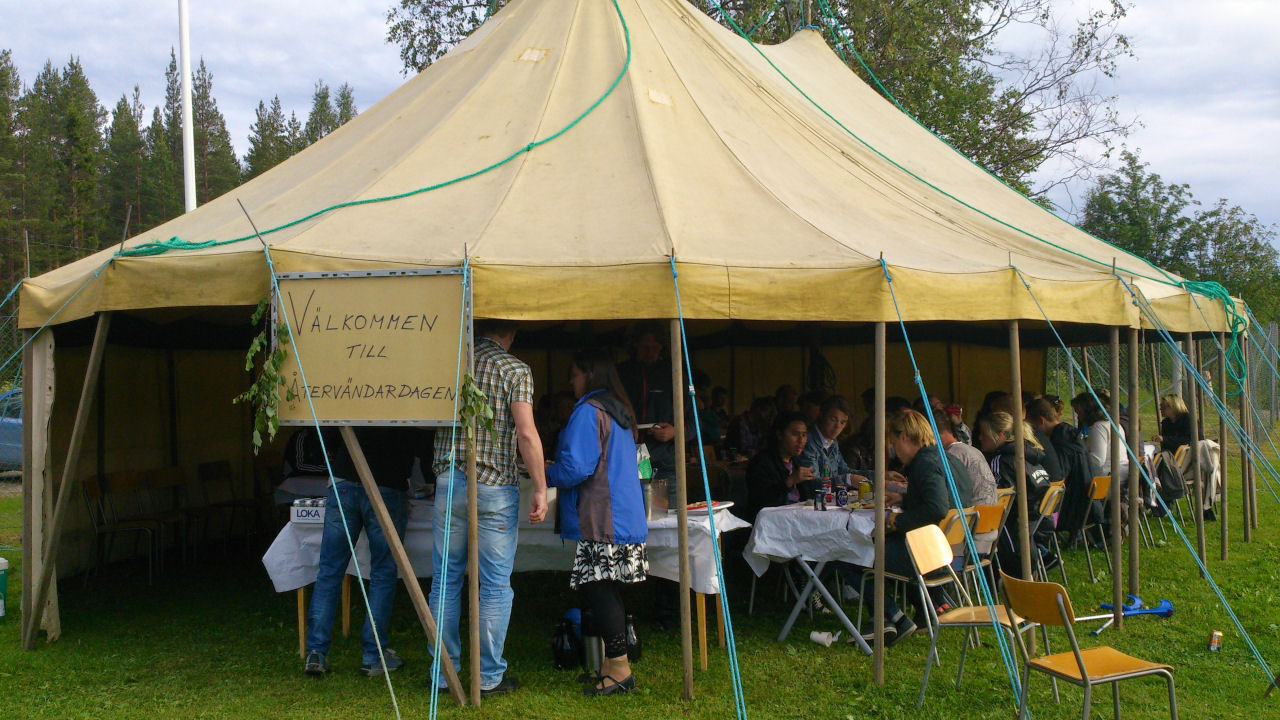 The highlight Hemvändardagen at Holm Vallen was honored by many local old football legends who made their way home to football roots. It was a pleasant day at Holm Vallen plotted on a sunny middle day in summer otherwise gråmulna weather chart. The day began with a welcome by football veterans from Holm SK who now found their way back to Holm. Then followed days of presentations and stories from the past of the participants.


Owe Eliasson welcomed all veterans welcome back to ancient Holm Vallen, and then got the old players introduce themselves. Additionally told a lot anektdoter of yesteryear. Here are some examples:
I have been playing here for many years but I have not been active in the club's inner workings, but I understand that it has been very hard that has been done to people like I could come here and just have fun. I want to thank all those who set up and worked in the club. /Anund Johansson
When I played coined the phrase that it would huh tall men in midfield. It va Olle Frisk, Bosse Bergqvist and I, but I do not understand how I could apply as tall. / Rune Lind
I've played here against Holm with several other teams, but I do not think we went away some time with a perfect score. /Gote Svelander
I was sitting often over there on the bench, but I had to come in sometimes as few yellow cards, it has become. /Willy Bergqvist
Speaking of cards, red card I was given when I was playing and I Christer Frisk. /Anders Sundholm
I was in the 50s when we had a barrack of masonite we picked up at Uno Herkules flatbed truck. It put us in when we went to away games. /Olle Fresh
I played several years in IFK Sundsvall where I topped with allsvenskt qualifier against Helsingborg and had to play against Henrik Larsson, but there somewhere took our careers different ways, and I returned to Holm. /Thomas Åslin
When I went back to Holm, I was recruited and the coin got the stairs on "Panget" in Liden Olle Frisk. /Leif Hjerpe
.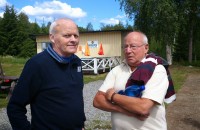 .
The day included an airy schedule with a focus on meeting, hang out and talk old memories.
Ove Sundman and Soren "Ribba" Söderlund, Both former players and managers of the club, discusses football episodes.
.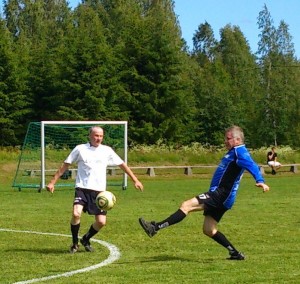 .
To mark the occasion laced up so even a vigorous group of veterans on his dusty old football boots and offered up to the match,. The tempo was maintained along the form of the day, but in terms liret put the remains in the spinal cord of all the players and it was showing up a lot of delights and finesse.
.
.
.
Replay from scoring opportunity with dazzling attacking game and block by Göran Frisk.

See two video here:
Agne Frisk sätter den i nättaket and Lars-Åke Sundberg slår en straff i sluminuterna.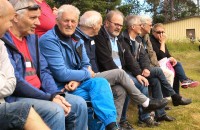 .
In the afternoon it was time for the club's young talent in today's A-team in their true colors against Ljunga IF before the football savvy and mangranna audience of around 120 press.
.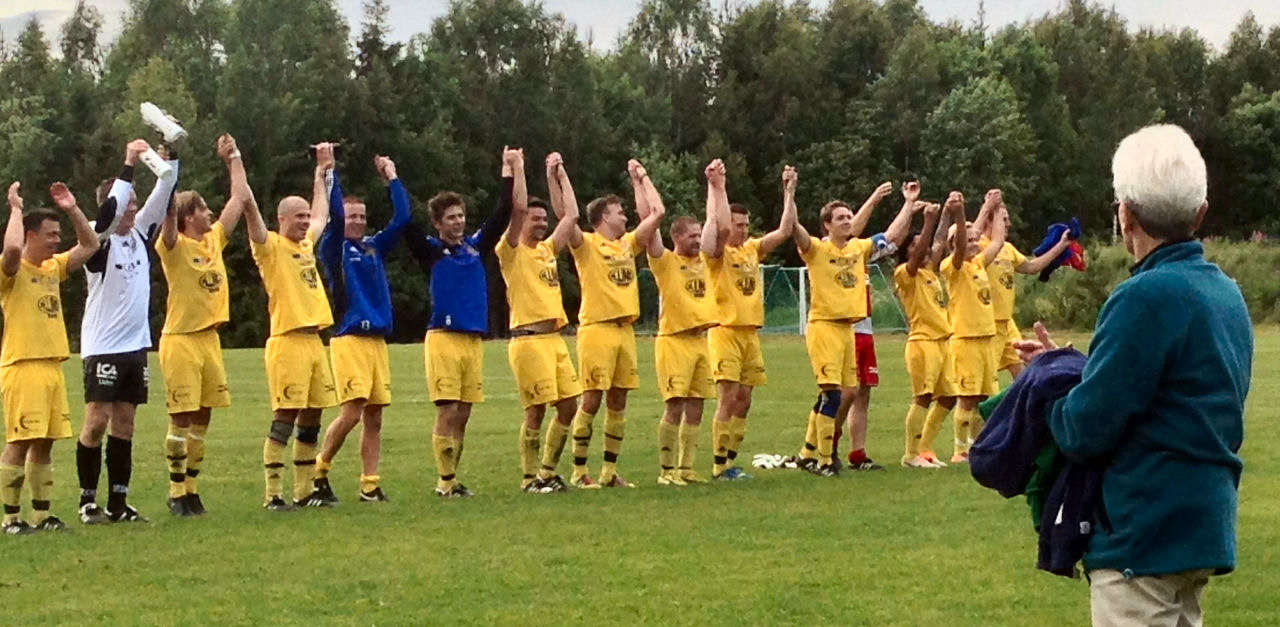 The match ended with HSK-profit with the whole 6-0 (3-0) before large audiences. The team concluded by thanking his predecessors who cheered on and not least ensured that the club survived the years. Hopefully it gave hemvändardagens participants and the audience wanting more to kolla spelsshemat for the fall season and return in Holm Matches.
More images from hemvändardagen (Click on photos to enlarge)
.
Summary of the A-side series match Holms SK – Ljunga IF
"There was never any question about it, Today Holm wanted to win and show all the returning players that you are a team to be reckoned with. It dismissed the visiting Ljungaskog with clear 6-0 after had the lead, 3-0 in half. You could see already in the first minutes it was a heltaggat home team who would sell himself dearly for the day…"
Read the full match report of proceedings at holmssk.se /alaget.
Man Of The Match *: Niklas Wikholm. Scorer: Niklas Wikholm '25, '30, Rasmus Staaf '61 '67 (penalty), Rickard Severin '21, '85.
* Always appointed by the audience. Today respresenterad Lage Hultman.

+ Read more commentary (and "before-talk" m.w.) from Lokalfotbollen.nu.
Reviews from all Div-5 matches (updated late / days after).
.

+ Individual performance in today's league game.
+ Player statistics of matches, target, Assist, short mM.
+ The table in this year's Gold Femman race at holmssk.se/g5.
+ Subscribe for free HSK's results and match details on SMS.
See more links - Match Schedule, Table, scorer mM.Close.

+ Table, matches etc.: Holmbygden.se /Table.
+ Scorers: Holms SK's internal, Div. 5 Base.
+ Public League.

+ Holmbygden.se /hsk – Read more about the association Holms Sportklubb.
+ Holmbygden.se /hskkalender – Sync matches / training sessions with your mobile!
+ Holmbygden.se /series – Results and tables for all Medelpadsgatan Impact, also direct reporting live from Allsvenskan and Superettan (m. Giffarna).

Current table Division 5 2014