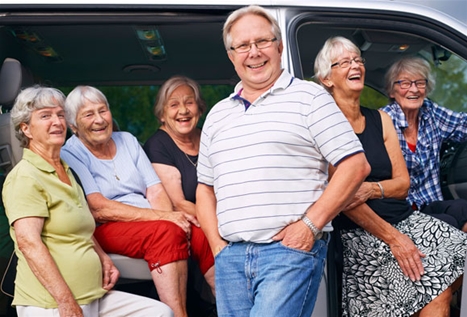 Lasse Vågberg, glesbygdens egen glädjespridare omgiven av från vänster Gulli Wikholm, Gerthy Eriksson, Gunnel Eriksson, Ingrid Wikholm och Mariann Enbom.
Tidningen HEMMETS JOURNAL har i år tävlingen "Sveriges bästa
busschaufför" med hela 200 nominerade där en av de fem finalisterna är Lars Göran Vågberg från Vike. Priset är instiftat för att hylla att hylla vardagens glädjespridare.
I glesbygden finns det ofta eldsjälar som brinner lite extra vad de gör och tillvaron lättare för andra medmänniskor. Lars Göran Vågberg är en sådan. Han är sina kunders allt i allo när han skjutsar till affär, vårdcentral och bank m.m. "Det känns så självklart att hjälpa till", säger Lasse. En trevlig, glad och skämtsam person med bra sinne för service som är väl värd att rösta på. Läs mer här om Holms kandidat.
Rösta på internet

: Go in the

www.hemmetsjournal.se/

sverigesbasta




och lägg din röst

.

Du kan bara rösta en gång från samma dator

.

Rösta via sms

: Print "

HJ HJPRIS 5

" to 72772.

med stora bokstäver

.

Alltså HJ

(

mellanslag

)

HJPRIS

(

mellanslag

)5.

Siffran

5

betyder kandidat nr

5

som är Lasse Vågberg

.

Rösta med vykort

:

Skriv ditt namn och adress samt namn eller nummer

5.

Skicka kortet till

"

Sveriges bästa busschaufför

",

Hemmets Journal

,

Box

17, 231 21

Trelleborg

.
Du kan rösta fram till den 17 October. Vinnaren presenteras i Hemmets Journal nr 48 i november.
Läs mer här om "Service buses" som Lasse kör mellan Holm och Liden.