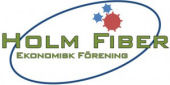 Holm Fiber Economic Association The Annual General Meeting (annual meeting) Sunday 12 June at. 17.00 Conference on timber magnate & Training Center in Österström. The county administrative board shall also make decisions about our application by 31 May (!), thus the results concerning refunds hopefully can be presented at the Annual Meeting.
Take the opportunity to pay any outstanding dues! Read more here.
Yearly fee 100:- till BG 500-0229. Write fastighetsbet. and name announcement.
Because it is a very important information which will then be announced, it is important that all members are able to report at the annual meeting.
Träpatronen Free coffee and cake!
Welcome!
Read more about the association and membership in holmbygden.se/holmfiber.

Read the notice and agenda.