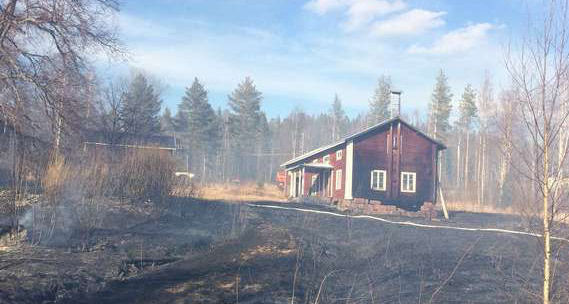 During the May Day weekend rescued a house in Norrleringen from the fire of a so-called Enhanced neighbor. Do you want to become a!? Or are you already and want to get refresher training and, among others. test powder extinguishers. Register your interest here!
Rescue services in Fränsta and Liden who was alerted to the grass fire was 33 and 36 km away, with a five-minute response time and a half hours driving time to Norrleringen. However, there were nearest neighbor reinforced only 3 minutes away and help was quickly on the scene with a portable fire extinguisher. The difference of the fire exit may have been great p.g.a. in the early and resourceful intervention. Read more in Sundsvall newspaper on fire.
Rescue and ambulance alerted always at 112 calls about accidents in Holm, just like everywhere else in Sweden. Often, however, during the first minutes immediately after an accident that the crucial and lifesaving measures primarily be made. As is usually the available resources far away when staying in rural areas.
Now there is another chance for you who would set up if you have the possibility of an accident or a cardiac arrest in our district. Education evenings are organized in Sundsvall 15/5 or enter 16/5, at 17-21 for new and PM 19-21 as a rehearsal for already active. If you are unable to go now, specify that you would rather go training later. Register your interest here!