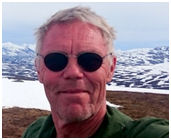 Now, the migratory birds return, they become 10 times more than we had during the winter in our land. First up is the blackbird now. It was Titti and Jörgen Olsson, Östbyn, reported that the first; 12/3. Later that week also chaffinch proved of them. There are bird food connections in the area that gets the first vårbesöken. Here at Navarn (300 MOEH) it was not until 19/3 before the first blackbird came.
For one and a half years ago I made an appeal for Birds and other animals at Holm Bygdens homepage (Also in the slide magazine). Titti Olsson, Östbyn, and Arnold Johansson, Långliden, were those who showed an interest.
Arnold (82) has been a forester and biologist hobby, accommodation in the same place, since childhood. I visited him in April 2016 and lent his nature diary. He has noted 20 vårfåglars first arrival date in Långliden between 1951-2011. 60 year notes will be science Mellannorrland and Sweden. Here we can see how the singing lark, Lapwings become rarer / later and that, instead, are the blackbird and chaffinch first in Liden during spring now. Arnold's diary has been submitted to the Administrative Board and the Swedish Species Information Center (SLU in Uppsala). Swedish Agricultural University (SLU) have started our fenologiprojekt ("Arrival of spring" in various parts of the country) in terms of flora and fauna. It involves first butterfly, bumblebee, with a, flowering, bird arrival, thaw mm in the area (the plot) you live. This is part of the following changes in the climate in Sweden / World.
Titti and Jorgen has also on several occasions observed horn owls and earth owls at dusk on infields on the north side of Holmsjön since mid April! Christin "Titti" Olsson, Östbyn, whose father worked with Sundsvall F.D.. "Bird legend" in 80- and 90 talet.Nils Lundmark, got in right away and wanted to re-establish their bird interest. Nisse, that died 2006, spent a lot of time up in Holm- and Liden area of ​​inventory and ringing of owls and put up two hundred feeders in our area during the 80-90 century (owls and dippers). Under sina 60 years as an ornithologist put Nisse up over 1600 small bird feeders and about 400 owls. He ringed over 12.000 birds.

Birdyear 2016
Årsvädret in Holm was favorable for fauna (Also flora). August and September was warmer than normal and contributed to the survival of the hills were higher than during a normal summer. Normally survives in Chick from a litter in the first year. Now, survived the most sensitive before the move took over in the autumn.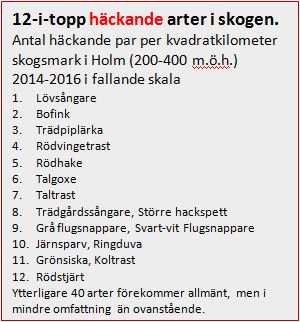 .
The undersigned has an inventory of breeding birds in the area since 2000 (at Storsten Ant up at Storflon, north of Vike) and Lokåsen in Nordanede (south of Holm).
Leaderboard on inventories in the last 4 years look like the box next to. They are from our forest areas, and these 16 birds constitutes about 80 % of those found in Holm's forests.
.
.
The annex below 13 people who reported their findings in Holm during the year (7 accommodation in Sundsvall!!?). Here you can see in detail what is reported in Holm.
But we wait for your sightings during 2017. Please contact Titti and me what to do to become a reporter of what happens in nature in Holm. We help you further.

.
See Appendix:
Reported birds in Holm 2016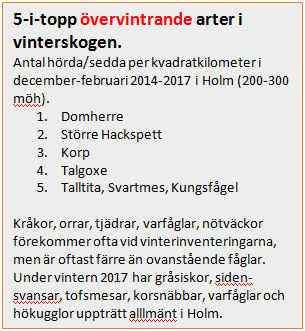 .
In winter, the "shortage of birds", only 10 % compared to the summer. See the box beside.
Some special observations during 2016 is Golden Eagle the nesting season in the forest north of Holmsjön. Titti and Jörgen i Östbyn have kestrels nesting in a bird nest on the land for several years. In addition, they are now in the spring 2017 had both soil owl and hornuggla the meadows at Holmsjön near their homes.

Vulnerable / endangered birds, common in Holm
Miljödepardementet have, via EU, en S. K. Red List that applies to all animals- and växtarterter European list of threatened species.
graduation is:
near threatened (NT in the Annex)
Vulnerable (VU in the Annex)
Highly endangered
Critically endangered
Extinct
Several of the near threatened and vulnerable birds have a relatively good survival area in the Holm area.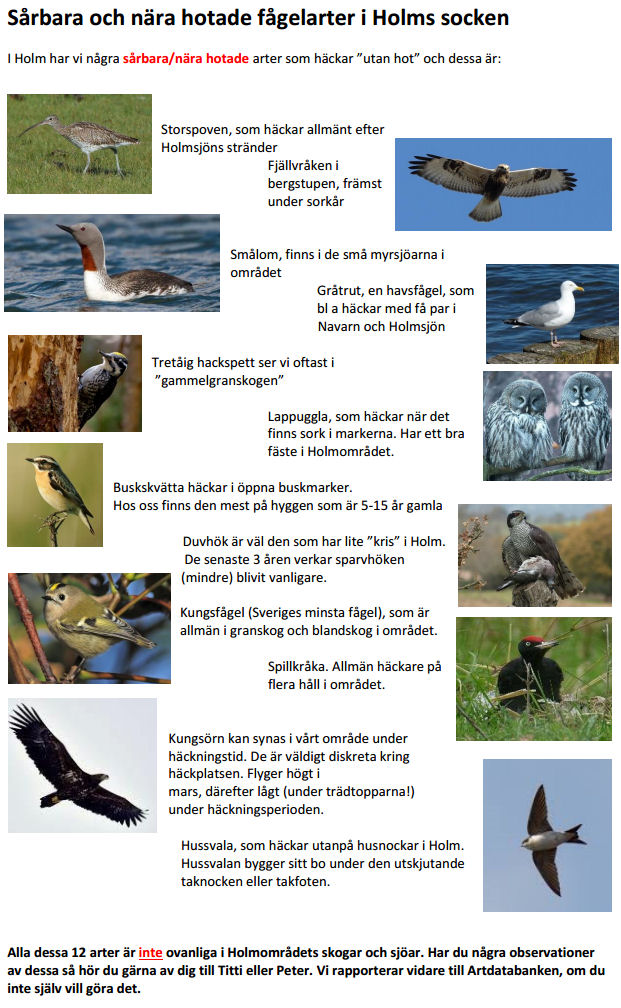 Clicked to enlarge or see attachment for PDF format: Vulnerable and near threatened species in Holm
Regards
Peter Berglund
"The old at Navarn"
Report bird sightings to us:
Peter Berglund 070-5880994 peter.berglund50@gmail.com
Titti (Christin) Olsson 070-6300617 hristin.olsson@skola.sundsvall.se
The goal is to form a larger network that develops the image of the species found in the area. By extension, the network will be extended to mammals, insects and plants to get a comprehensive picture of the situation in the northern taiga habitat. But it is about to give you to know so that we can extend nature Guard.