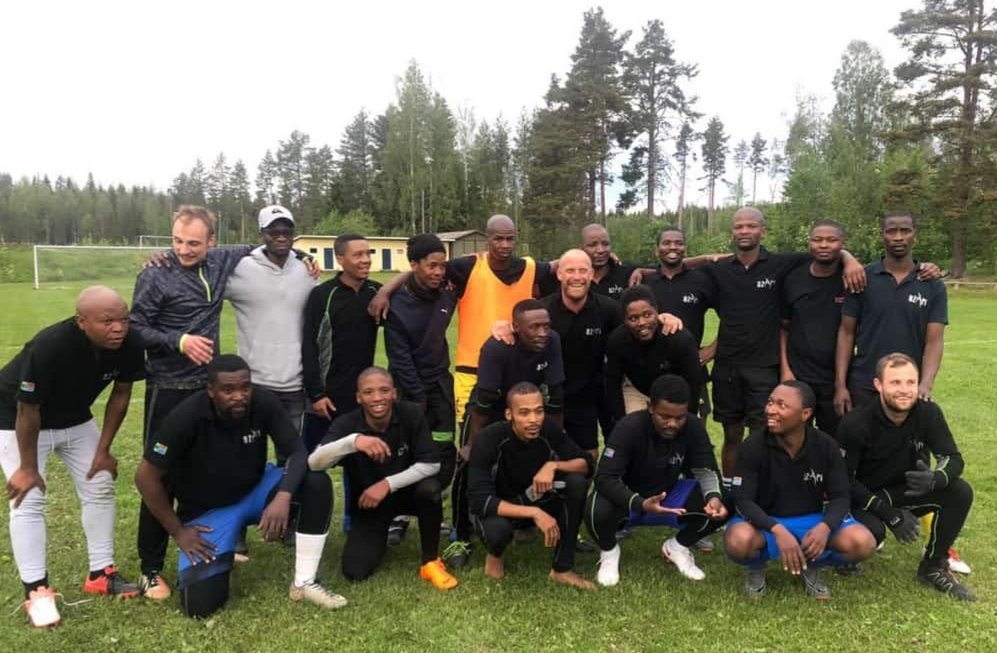 Holms SK played against international guest-working South Africans from Azari Wind the Holmvallen.
On Wednesday evening, organized an international match between Sweden, Filter consisting of SK, and South Africa, represented by the guest workers building wind turbines "Crow croft" (footnote).
Just over 20s visiting wind energy workers lined up for the kickoff and just as many of their colleagues had sat on the Holm-gallery.
The South Africans, who never played a football game together, whose real national sport is rugby, played good and bad actually stiff resistance with tough rough. Moreover, also played perhaps their best workers and scorer, Mendu, Holm in position to equalize the number of plays.
HSK was still straw sharper and got more balls in the net. The match ended 7-2 till Holm. Most importantly, however,, a fun meeting and approved to fight efforts of both teams giving good training in the legs. Hopefully you will now also more guest workers spectators to come to the summer home matches.
Goal: Niklas 3, Tommi Torvet (acquisitions for Söråkers FF) 2, Yonas 1, Mendu 1.
On 16/6 Kl 14 play next home game at Holm Vallen between Holm SK and IK Fränsta. Serving coffee, hot dogs and hamburgers.
Read more on holmbygden.se:
Info about Holms SK and Free SMS service with news and results about Holms SK.
FOOTNOTE: The place Crow cottage has besides an early history from the 1600s to present utländare. A readable history surrounding the cottage and the terrible tragedy that took place where you can read more about here in Liden Newspaper.