Holmsjön attracts many tourists skating in winter when conditions are especially good. Here a party of luck against Anundgård, with Holm's church that majestically rises out of the mist. Photo: Lola Hultman
Holm Sea about 3 mil long and still lake waters make it frequently to the area may be the best and safest ice skating. In winter it has been invited on many extra fine skating days on the glassy ice. The mild winter has resulted hittls bad with snow around here, as well as in most of Sweden. All the better, however, the conditions for good skating rink has been. Whether you are skating or regular griller, it's a great experience to go out when the ice is smooth.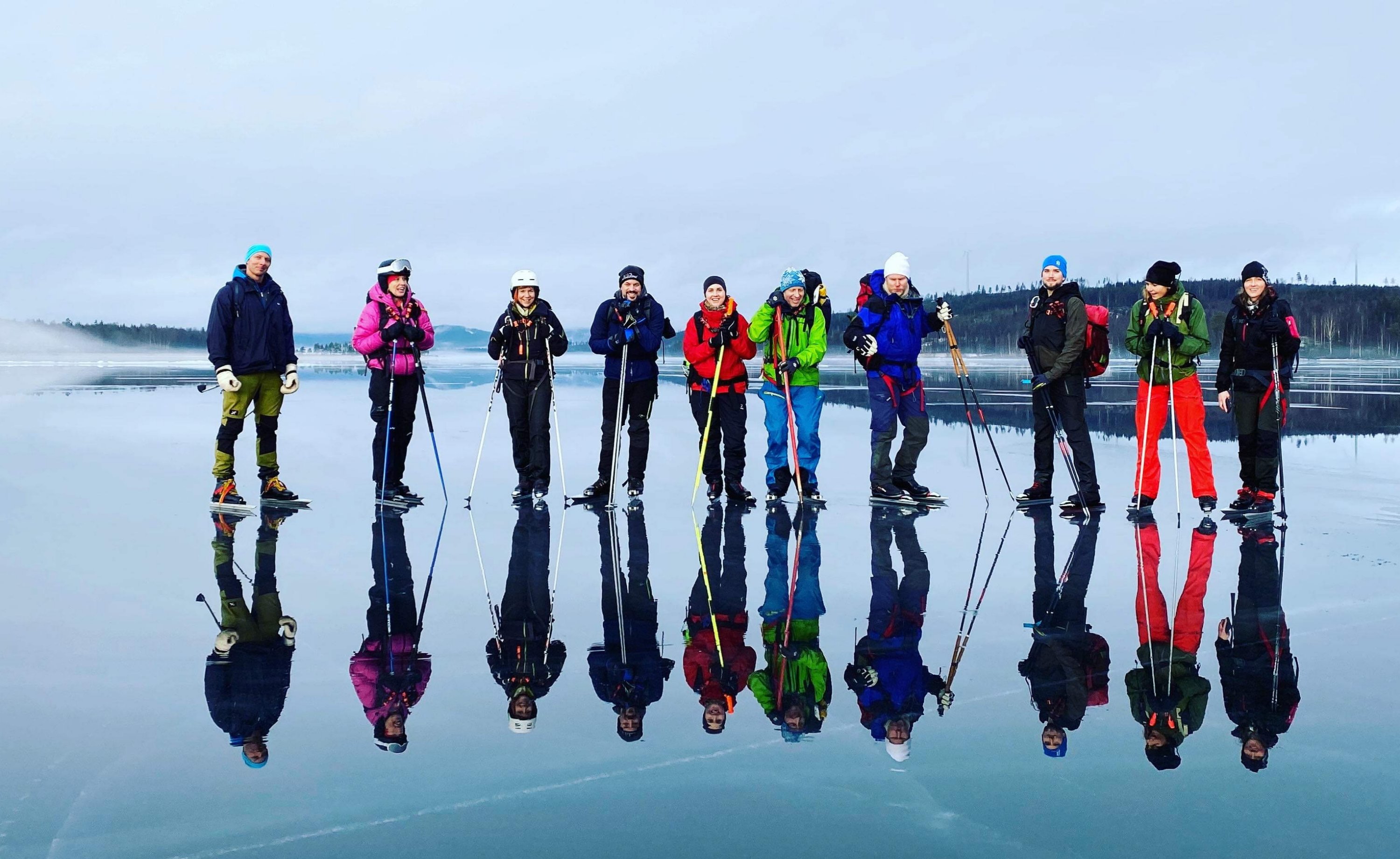 This weekend Lola Hultman, of Inclination, and Jonas Modin with the company out on a ride along with Holmsjön. The images convey no doubt the feeling of freedom and natural experience even if the time should be experienced on site.
A clear ice from freshwater considered sustainable for a skater when five centimeters thick, according to Friluftsfrämjandet, which may take a few days or a week on the big Holmsjön. Normally, when the lake froze in December, it usually takes not so many days before the snow comes as a letter in the mail. Then it is that the ice is sufficiently thick, if earlier to have time to go on the. With this year's mild winter, however, has no thick insulating layer of snow has settled, so when winter arrived it has been able to freeze on quickly when it was below freezing.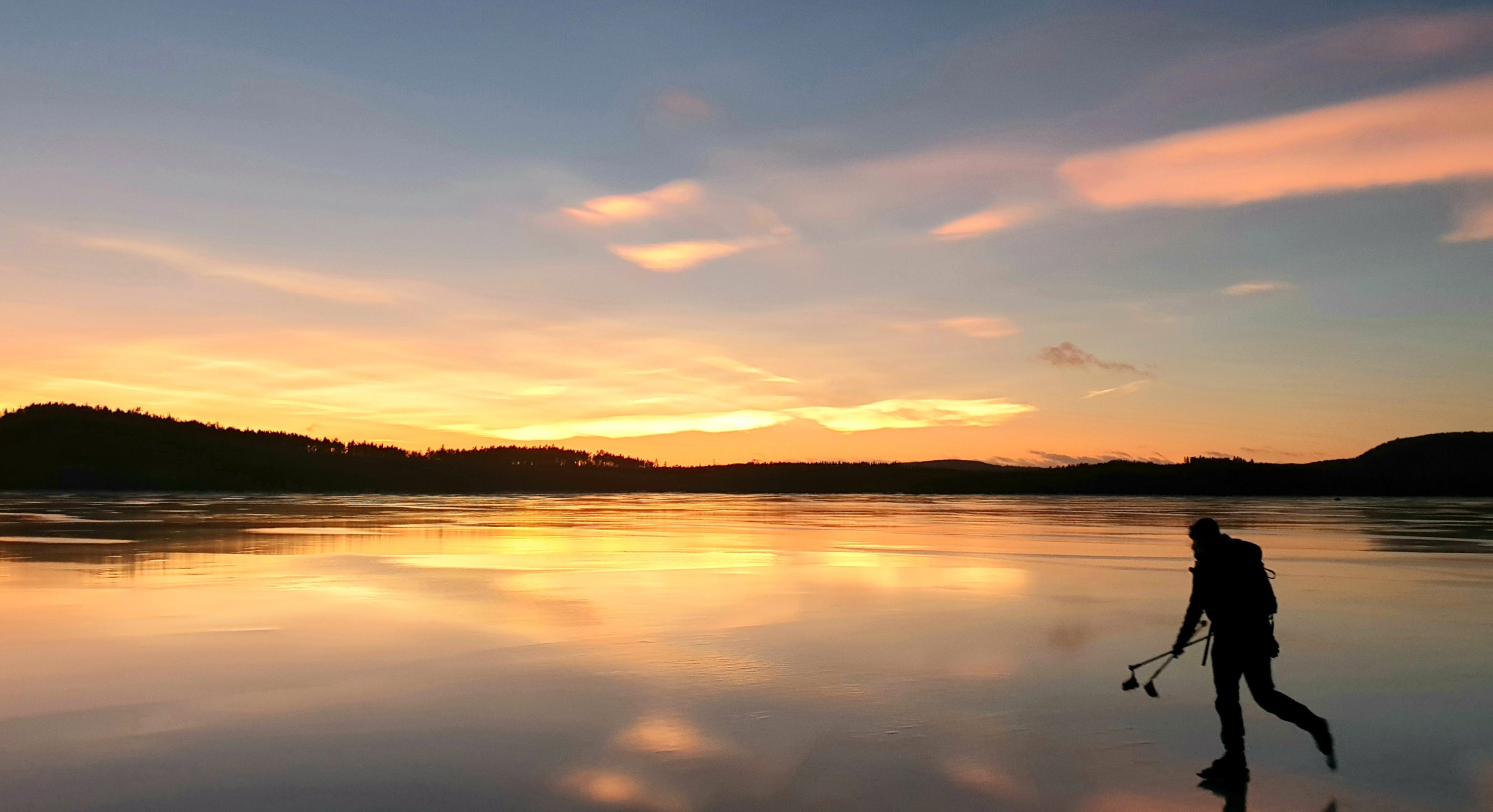 Sunset outside Loviken in early January. With the rapid slide in the strong wind takes you down to Anundgård in half an hour-hour. Closer 30 km / h was measured with GPS.
Large and quiet lake suitable for ice skates
Holmsjön starts normally freeze about a week into December, with the smaller lakes around it can be frozen and ride at the beginning of November,. When the snow cover in December failed to appear at Holmsjön, it could soon become 2-3 decimeters clear ice and then when it repeatedly been just over "zero" the little snow that got melted away. Ice surface has then been able to become shiny and nice again and again. Holmsjön which both have large areas and are not flowing water also makes it extra suitable for long-distance skating. This winter thereof lake attracted extra visitors people from climes around, but also long-distance skating tourists from Stockholm and far from the bottom Linkoping visited the area ice.
Movie clips of ride on Holmsjön starting in Lovikens evening sun.
Use ice claws and beware of accidentally and places where the ice is weak
Although the lake is great and the ice usually thick, there is reason to be a little wary. When lake regulated for hydro moves ice cracks sometimes partially or fully across and then formed a so-called lead opened, large cracks with height differences or gaps where the ice differ greatly.
.
Likewise, you should look up the streams which flow into, bridges in Vike and near the outlet at Sandnäset where ice can be open or weaker several hundred meters out. Ice claws and ice knowledge is always recommended! Even if the conditions are good.
What was the temperature last night? Live weather page on Holmbygden.se / vader
Has the ice melted? Has formed "överis"? If the ice built up on tonight? There are questions we often ask before you should go out. Now the weather page of Holm district updated and displays in real time and actual temperatures have been lately. Data is stored continuously starting today, 20 January 2020.
.
Links