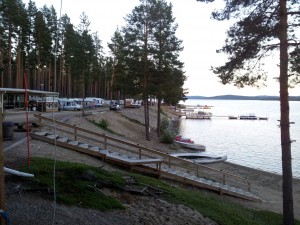 In several places around Holmsjön are several fine sandy beaches of nice sommarbad. The most visited is Västbyn and Sandnäset.
At Sandnäset it is also possible to rent jet skis and a variety of other activities.
Read more here.
…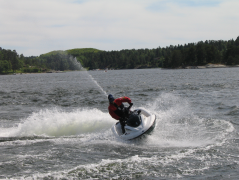 For those who like boating is Holmsjön area's largest lake, about three mil long and 39 km² i area. The lake is well suited for wide turns on water skis or wakeboards. Many residents and summer cottage guests choose to launch their boats this summer.
.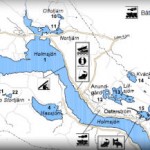 …
Holm Bygdens waters See fish map and read more about Holms waters this.
.
.
.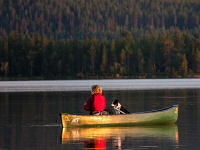 .
paddle Canadians
In the mood for a leisurely ride in a canoe (canadian) any watercourses. Then there are canoes to rent at Österström. View rates and contact information.
.
Current water level in Holmsjön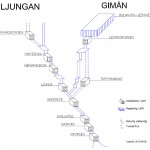 Holmsjön with neighboring lake Leringen constitute a large water reservoir for the power industry and regulated by Leringsforsens power plants (sketch of the water flow in .pdf here).
The regulation is controlled via a water estate that limits the possibility of changing the water volumes on a weekly basis. Summertime is Holm Sea water level of about 201 meters above sea level and lowered the winter down to about 197 m.ö.h.
See today's water levels here.
Source: Water control companies, energy Agency.
.
.
Depth map of Holmsjön in paper format
Detailed depth map over Holmsjön is made using sonar and can be purchased from Holms Fiskevårdsområde.

.
Holm Sea Sea chart with basic (down to 4 m deep)
As in all the lakes are some basic that can be useful to know out on the waves or on the ice. Below you can see a map of Holmsjön and its foundation, and download maps tracks to use in your GPS, eller smartphone navigationsutrustning.
(Do not you see the map below, you may need to right click on a yellow strip top / bottom of your browser and select "Show blocked content" or "Allow".)

HE sea ​​chart in full screen or open map in Google Maps.
View the map of your mobile phone with your location
Here's how to track your own GPS position and see the grounded out on your mobile using the Google Maps app or via your smartphone's browser:
1. Turn on GPS:one in the mobile, if it is not already enabled.
2. Open the browser and enter the address holmbygden.se/grund.
(3. Do you prefer satellite view, select it via the stock symbol.)

If you have a google account (thus a gmail) and is logged on to your mobile, you can then find the map in the Google Maps app. Push "saved" and then "Maps" (home. you can drag the menu to the left unless the whole screen fits). Then press "Holmsjön's foundation"

Download the track files in various formats for GPS:he. High Click, "Save Target As…".
GPS eXchange – Holmsjons_grund_(120912).gpx (0,7MB)
MapSource – Holmsjons_grund_(120912).gdb (0,1 MB)
Google Earth – Holmsjons_grund_(120912).kml (0,2MB)
Google Earth – Holmsjons_grund_(via Internet).kml (0,1MB) Reading the map online.
More on the map and track map
Holm Sea due to a GPS track (s.k. "track") characterizing the lake's different basis and shoreline. The track can combine with GPS or smartphone phone used summertime to avoid because of the boat and in winter to avoid rocks or weak ice. Avoid the lines and the tour will be safer! Can also be used when fishing if you want to find again a foundation on the lake.
Holmsjön is regulated and dropped plenty of water in winter. Kart track has been made by snowmobile along the lake's shorelines winter. At the time (March 2008) the lake was lowered about 4 m compared with the water in summer. The country has a good margin of navigating the track to avoid because. Some of the excellent foundation can of course be on full deep enough yet to pass when the lake is full daylight.
The track is created by Patrik Wikholm. Digital track processing and publication of Niklas Wikholm. Subject to errors.