Shortcuts
Switch between Holm and Sundsvall
Line 28 Sundsvall – Holm
Info and Pricing
Line 30 Sundsvall – Liden
Line 133 Sundsvall – Högsjö…
---
.
Switch between Holm and Sundsvall
Looking to commute between Holm-Sundsvall, like many other? The cost of commute whether you go by car or bus directly compensated by lower housing costs in rural areas. Fits or go working to adapt to the bus, you can save both driving and gas money.
……
---
…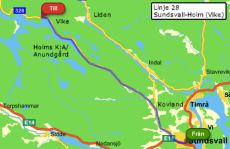 Line 28 Sundsvall – Holm (Vike)
Se Holmbussen i pdf-format eller genom sökfunktion här på Dintur,is.
OBS! Sträckan Sundsvall-Kovland kompletteras ibland med byte via Linje 30, se tider längre ner.
.
…
How much does the trip Holm-Sundsvall (50 km)?
Som pensionär eller med 100% sjukersättning/aktivitetsersättning kan man köpa "Senior Card" och som barn 0-19 år kan man köpa "Barnkortet" och åka obegränsat inom hela Sundsvalls kommun för endast 100 kr / month.
Reskostnaden för övriga resenärer beror på hur ofta man åker och hur man betalar.
Övriga priser hittar du här på Dintur.se.
.
More information be found on the county website traffic – dintur.se
School transport rules you will find här på Sundsvalls kommuns hemsida.
Transport Träpatronen & Tourism manages fortunate Sundsvall-Holm, you can find them this.
Taking the car or carpooling places to Liden or Kovland may be an option, and then take the bus. Further down you will find the bus schedule for "Like bus" – Line 30.
---
Line 30 Sundsvall – Liden (Hammarstrand)
Click on the timetable for larger view.
Lidenbussen i pdf-format eller sökfunktion på Dintur.se.
---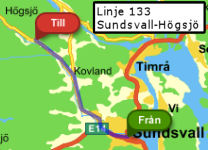 …
Line 133 Sundsvall – Högsjö
Click on the timetable for larger view.
High Seas bus in pdf format.
.
---
All timetables in PDF format
Holmbussen Line 28
Like bus Line 30
Högsjö bus Line 133