Emergency Information for Holm right can always be found easily via holmbygden.se / acute or through the vitgröna first aid symbol

top right of front page.
In case of emergency call the emergency phone. 112. At Sjukvårdsrådgivning tel. 1177.
The health center in Liden: such. 0692-439 20, The pharmacy Liden: such. 0771-405 405.
.
Holm AED – Available to the public to pick up around the clock
.
Rescue Resources Holm residents available
That 30 st "reinforced fellows"

scattered Holm. A project where the emergency alert voluntary Holmbor in an accident via SMS and can be on site within a few minutes or, at best, second, depending on the distance. Read more further down.

An ambulance stationed in Liden

with about 20 my (17 km) to Holm's Church after the alarm (turnout * 90 sek) when it is available locally. Liden ambulance However drinker assignments in other locations and long runs to eg. Umeå. In this case, an ambulance is usually alerted from Sundsvall or Stöde.

A deltidsbrandkår in Liden

with about 23 my (17 km) to Holm's Church after the alarm (turnout * 5 my). They also alerted the socalled. "IVPA alarm", while waiting for the ambulance – strengthening waiting for the ambulance to arrive. T.ex. cardiac arrest.

Ambulance Station in Sundsvall

, with about 50 km (30 my) Filter to Church (90 to sec. *).

Full-time Fire brigades in Sundsvall and Timrå

by about 35 my (50 km) to Holm's church from alarm (90 to sec. *).
* Turnout is the time from dispatching of the emergency to the emergency from the station.
.
The project "enhanced neighbor" in Holm is in operation since jaunari 2014
In an accident, can now Holmbor in the autumn received a basic education to turn out and help a neighbor in need. Currently alerted those involved in the project through SMS SOS alarm when an accident occurs in about 15 km radius of Holm's church. The project may later be developed further so that only those who at that time is within a certain radius of the accident will be announced at an event m.h.a. mobile positioning.
The rescue Medelpad: Protection against accidents in rural areas
Event types relevant for dispatching and how to act on the accident
– suspected cardiac arrest (Learn first aid and CPR)
– Brand (What to do in a house fire.)
– drowning (Learn about lifesaving, see if someone is drowning, islivräddning and issäkerhet.)
– Traffic accident (Learn how to make the first of a traffic accident, listen or movie will.)
Want to join as enhanced FELLOWMAN? SUBMIT INTEREST!
Your interest here are forwarded by us to the Rescue. In addition, when you are involved in the project, we'll add you to a local SMS chat group collaboration channel for important information on alarm, and a local facebook group for the dissemination of information locally. Hopefully we can eventually get Reinforced fellows scattered around the Holm.

The project reinforced neighbor in the media:
Previous articles on the subject on our website and in other media
2015 13/7 Holmbygden.se: "enhanced neighbor" – successfully in rural areas
2014 13/4 Swedens radio: Vetenskapsradion in Holm on "Strengthening fellows"
2012 17/12 Sundsvall's Newspaper: Less protection in rural areas
2012 17/12 Sundsvall's Newspaper: A text message to a neighbor can save lives
2012 16/12 Holmbygden.se: Holm's new "local lifesaver"
2012 9/12 Holmbygden.se: Do YOU ​​want to be a lifesaver in Holm?
2012 22/5 Holmbygden.se: Holm's defibrillator - now in service!
2012 10/5 Holmbygden.se: Demonstration of Holm's new defibrillator 15/5!
.
INFORMATION FOR ACUTE HOLM RURAL
A defibrillator is available locally and can be accessed at a cardiac arrest – even before an ambulance arrived on the spot. Read below how to make of cardiac arrest, i Holm.
IN CARDIAC ARREST – I HOLM:

…




…


1.

…




…


Check conscious


Take a hold of the shafts, shake gently and try to bring the person.

If the person does not wake up, you check for breathing.

2.
Check breathing

*




Open the airway by placing one hand on forehead, bend your head back and lift your chin with your other hand index and middle fingers. Place your ear close to the person's nose and mouth, listen and feel for breath, see while on your chest if it rises.

3.
Alert 112
If the person has abnormal breathing, not breathing at all or you are unsure, you should assess what the person has suffered cardiac arrest.
Ring 112 (ask any other) and
Starting immediately CPR.
.
If you are several near heart-starter:
Ask anyone speedily retrieve defibrillator in Olle Frisk farstu

(

Anund Farm 134

)

.

4.
Make heart- resuscitation – HLR, "30:2"


…


Chest compressions – 30 ggr:
Place one of your wrist in the middle of the chest, place your other hand on top. Press down at least 5 cm and release completely between compressions. Hold a rapid rate of about. 2 pressure / second (100-120 press / min). Push 30 times.


…




…


Breaths – 2 st:
Open the airway: keep one hand on forehead, bend your head back and lift your chin with your other hand touch- and middle. Pinch of the person's nose,, place your mouth close to the victim and blow air until the chest rises.
Make 2 breaths.…
…
…
…
continue with 30 compressions and 2 ventilations until the ambulance will.


…




OBS! Can or want to do rescue breaths, it is better to just do chest compressions than nothing.

Depending on how many people are in place, to allocate tasks.
T.ex. to

one or two begin CPR (one can compress and doing rescue breaths then change it when you get tired, approximately every two minutes).
in calling SOS tel. 112,
in calling Olle 0730-484 511 or download defibrillator.

Are you yourself, it is important to call for help and do CPR. Without continuous CPR dying person. Continue as long as you like.

5.
Use heart-starter
Press the ON button and follow the unit's voice prompts.
The device determines himself whether to run or if, instead, you must continue to do CPR.
Source (plus local additions): CPR Board (hlr.nu).
* Today they have abandoned the pulse control because the pulse is often very difficult to know. In addition, you lose precious time. It has also come to the conclusion that it is virtually harmless to heart if you happen to do CPR on an already functioning heart.
One need not be afraid of making mistakes neither with heart starter or with CPR (HLR). Sure, you can make manual exercises various good, but the only fault you can possibly do is to do nothing. Heart Starts set even say what to do. Early CPR and defibrillator multiply the chance of survival, Holm particularly in long distance and travel times for ambulance.
…
SUSTAINED chest pain? – PREVENT POSSIBLE CARDIAC ARREST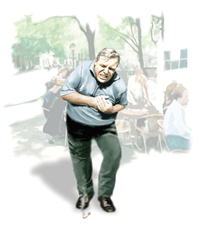 Can you experienced chest pain may be caused by a variety of things, often it is harmless. If, however, a strong, oppressive or crampy pain in the chest that does not disappear or if you have chest pains while feeling out of breath, nausea, clammy or irregular heartbeat. Then they will call 112. Are we alone should also call someone nearby, so that they are not alone before the ambulance arrives. Important if you get a cardiac arrest. Read more – sjv.upplysningen 1177.se.
…
While waiting for an ambulance can take a Treo or Aspirin.
Aspirin in the medicine (prescription) prevents platelets (platelets) clump together and form blood clots. Aspirin may be waiting for an ambulance or helicopter to save the life of a heart attack patient. Always notify the paramedics what drugs you are taking.
Source: Karl Johan Tötterman, specialists in cardiac- diseases.


…

Do you have nitro-medicine (spray / tablet) you can take it while you wait, and rest. Nitroglycerin (prescription) dilates vessels, allowing the blood to arrive. Nitro is used by paramedics by spraying it under the tongue.
Source: Apoteket.se.


…

Do not drive yourself to the hospital. This can in turn cause an accident if you pass out while driving. Ask someone else to drive or call ambulance.
…
What is angina and myocardial infarction?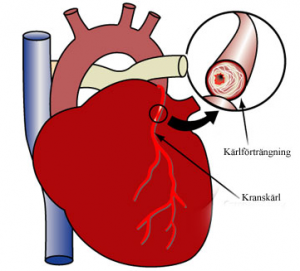 Angina and heart attack due to the narrowing in the coronary arteries. At the infarct, it is a blockage in one of the vessels. Blood may find it difficult to get around and the lack of oxygen causes pain and heart get hard to work.
Read more about the difference between cardiac arrest and heart attack.
← Click on image to enlarge.
…
…
Here are the most common prevalence of pain during a heart attack. The pain of myocardial infarction, however, seem very different and diffuse from case to case.
The pain created by the lack of oxygen in the heart muscle where the blood will no longer be p.g.a. constriction. Man "fooled" then to think that the pain comes from other areas such as. and collar, because the pain sensors from sharing the same nodes in the nervous system, heart.


Here you can search was Holm (and other) defibrillator available by typing "Anund yard" in the search field Hjärtstartarregistrets website.


A project is in Stockholm for utlarming of people in the vicinity of cardiac arrest. A precursor to the projects that are now in Medelpad and further developed to cover other types of accidents. Read more here.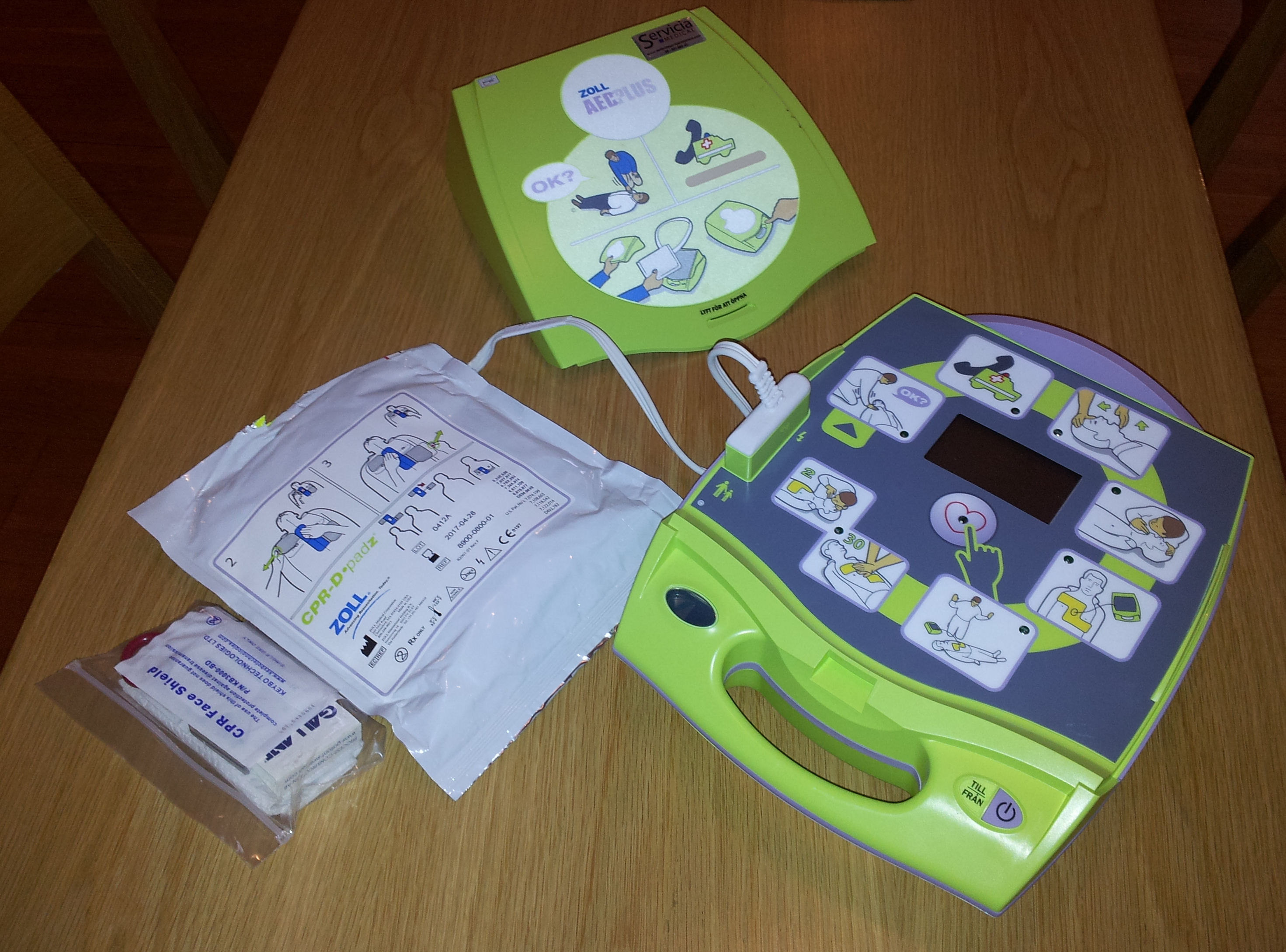 Here's what Holm defibrillator out – donated by both villagers and "utomsocknes", At the initiative of Olle Frisk. Defibrillator is simple to use, just turn on, then speaks a recorded vote on just what to do.
Read more in the report from the demonstration of the parish house in May 2012.
Learn how defibrillator works (stored in Olle Frisks vestibule)
Heart starter in Holm speaks Swedish instructions and tells exactly how to do.

Watch and learn how to use the model of defibrillators available in Holm.
…
SYMPTOMS OF STROKE (APOPLEXY) – LEARN EMERGENCY TEST
Stroke, also called stroke, is when you have either a bleeding or a clot (infarkt) brain. The symptoms are the same regardless of the reason and will of the brain does not function normally when oxygen deficiency occurs in the blood does not circulate properly. The condition is life threatening and it is important to know the these symptoms. Especially if you live in Holm, far from the hospital. Every second is important in order to improve the chances of saving the area of ​​the brain affected and ambulance should be alerted immediately if you suspect a stroke. Learn STAT test and the symptoms below.
Ansiktet hangs. Paralysis in the face?
Kroppsdel. One arm can not be kept in the air for ten seconds.
Thettal. The language is slurred and words are wrong.
Tsurfactant is costly. never hesitate, ring 112 directly!

Learn more about stroke here 1177.