Telecommunications Station Anundgård niha heye "herî baş li ber date". Wekî beşek ji phasing ji torê, skeletên li seranserî welatî niha Telia, biryar dide ku stationen ur drift efter 100 år i aktiv tjänst. Girtina hemû aboneyên me yên ku abonetiya mala telefon de bi rêya telefonê jack tesîrê li, gelo Telia an operator din.
salan 2012 hate eşkerekirin ku Telia dê anîn xwarê qereqola telefonê li Loviken. Niha li qereqolê, holdîngên i Anundgård ku paşê dîtiye best rojan de wê de ye. Wek vebijêrkên din re ji bo ragihandinê ji bi rêya tora sifir kevin hatiye ser more-û-din, da ku hûn Pol Telia ji bo hinek salan niha di vê pêvajoyê de ji holê rakirin, hemû danûstandinên di telefonê kevn ku bi êdî bi kêr were nirxandin. Anundgård The qereqola dê ji bo baş girtî 2018-04-03.
Vebijarkên nû, di nav de Fiber Holm
Ji bo kesên ku niha telefona malê bi rêya tora sifir tune ku hûn dixwazin ji bo vebijêrkên curbicur in. Eger tu diçî ku fiber sazkirin û bi riya "Holm Fiber" (obs! Report vir!) da tu ji ti operator bi kar tînin, ji bo hilbijartina Servanet (ku dê tora fiber ya bi hev re ava bi Fiber Holm).
An alternatîfek ji bo ku Telefona malê li ser fiber, ew bi "Telefona malê di ser tevna mobîl". Li ser malpera xwe, destê Telia allmän information med frågor och svar girtina REFERENCE ("Networks Future") û sina egna erbjudanden eger tu biryar ji bo bimînin (an sign up) Telia.
wekî din, Telekområdgivarna xizmeta mişterî carrier-bêalî ku dikarin alîkarîya bi sererastkirina tiştên derve û tiştê ku tu divê berî abonetiya we kirî.
Di dîrokê de ji bo guhartina telefonê i Anundgård
The yekemîn borsaya telefonê manual i di dawiya salên 1910'î de ava Anundgård. Qereqola bû 50m li rojhilatê rates telefonê îro (dikeve rojhilatê 700m ji civîna bawermendan). Stationsbeteckningen di wê demê de bû "Östbyn", kêm qereqolê de jî sabît i Anundgård. The "shift manual" bi giranî ji aliyê berdestî xwe Holm da hat pêşkêşkirin, Maria "Maja" Hjerpe (gêrîlla Viklund, 1912).
li dora 1920 Dema ku telefon Holm di zaroktiya xwe de bû, ew bû, ew bavê digirin, Maja ya Pelle Haglund ku Guhestina ew bû, lê niha 13 salî, ev Maia bû ku ji bo li ser running bigirin. Wê heta yekem qereqola otomatîk lênêrîna ji van guhertinan gear manual li Holm girt û cihazên telefonê modern zêdetir bi dial li ser peywira xwe ya Holm girt, di nava 60 ya.
Berî ku automation ev kar da ku, dema ku te dixwest tu ji bo banga derê ma hûn yekem dest cranking telefonê û rakirina bikartîne. Ji wan re got: Maja "Anundgård" li dawiya din û paşê jî hebû ku bixwazin li ve girêdayî be. Dibe ku ev jî dikare bibe, da ku guhdariya an gossip carinan li gundê bi vî karî.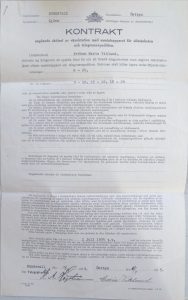 t.v wêne. yek ji peymana kar Maja dihat dîtin bi riya sal, "Peymana di derbarê rêveberiya qereqola danûstandina bi device telefonî de ji bo raya giştî û axivtin rastnivîsandina" ji 1935. Hene, di nav tiştên din ên ku li qereqolê dê söckendagar vekirî (çendan) de hate 8-20. Derwe wan saetan hûn mecbûr bûn ku ji bo îmkanên din ên ragihandinê binêrin, eger tu xwest bi dest bixînin yekî. Li ser yekşem, li qereqolê ji bo xizmeta sibê li girtî hat kirin 10-13 û ji bo şîvê ji roja Yekşemê li 16-18. Ji bilî vê, wêneyên li jêr hûn dikarin bibînin ku mîlê ji bo karê wek rêveberê qereqola dabimezre 40 kron / sal û abonetiya bû. Û li gor "telefon" wek ku hejmara aboneyan li 1935 dema 15 st, ku dê meaşê mehane yên kêm 50 kr.
(li ser pictures Click bo mezinkirinê)
Ji bo yên ku bi telefonê li mal tune ne, da ku ew diçûn, her weha serdana ofîsa guherîn de, eger ku te dixwest tu bi telefona. Di rê de ji we re hebû ku ji aliyê dev ji heqê 15 jî nedî, di gun reş ku li ser wêneyê de li jêrê bihêt. Bi heman awayî jî pirtûkeke li ser qereqola li Swêdê dîtin dosiyeya salan hate taloqkirin 1919. li ser rûpela 120 em bibînin "Östbyn".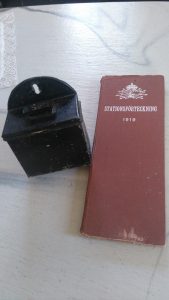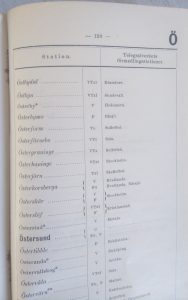 Maja di yekem bi telefonê jiyana ofîsa dijiya. Di dawiya sedsala 40'emîn ava manual santrala 100m rojhilatê nûtir. Îro keça wê ku li herî kevn qereqola dabimezre dijî e, dema ku kurê wê di ya duyem de-kevintirîn dijî.
Di nîvê salên 60'î de, yekemîn borsaya telefonê otomatîk Holm ya ava bûn (Avahiya êdî tune), di vê demê de di navbera her du jorîn. Di destpêka salên 80 de li qereqola dabimezre bikaranîn, heta îro hat çêkirin. Di nîvê salên / dereng 90, dirêj berî YouTube, Facebook û Google ronahî dîtin,, ev bi riya qereqola telefonê de bû ku gelek Holmbor ewil pêwendiyê xwe bi înternetê bû.
Pirî caran dibe sermaseyê ava bû "56 kbits-modem" ku li dora ji bo jack telefonê ve girêdayî bû. Û kerema ku wê ji erdê rakir telefonê dema rûniştî û li benda pênc deqeyan ji bo Web page dikarin bên barkirin up! Dibe ku derbas yekem e-mail Anund Farm navenda guherîn te?
Mixabin ji bo niştecîhan Holm, da ku tu caran ji qereqola rabû to bi gelek zûtir biawayekî ADSL-tekniken Destpêkirin de di destpêka salên 00 ya, dema ne Telia yan jî operator din jî nirxandin, ev dihêje. payiz 2005 erebekêş ji slide bo Anundgård dibistanê bû û paşê jî Anundgårdsbor pirsî bûn, eger ew dixwazin tev lê bûn, 15 ku malbatan kir. Piştî çend salan, heta bi teknîka mobile 3G, ku wateyê ku piraniya xelkê dial-up xetên internêtê kevin xwe bi rêya jack telefonê berda.
Ev, dê îro be gelek salan û vir ve kesek carî bi "modem 56 kbits" bi rêya jack telefonê surfed, lê belê di rewşa niha de ye, hê jî li dora 40 aboneyên bikaranîna jack telefonê ji bo telefon mala by qereqola Anundgård.
Related links
biryarên ku di kanûna 2016: alîkariyê wergirtine ji bo fiber bo Holm! Holmbygden.se
www.holmbygden.se/2016/12/15/beslut-fiber-till-holm/
Holm Komeleya Aborî Fiber. Sign up here!
www.holmbygden.se/foreningar/holm-fiber/
Read more about girtina / "tora pêşerojê". Telia.se
www.telia.se/framtidensnat
4G-master heta Holmbygden! Holmbygden.se
www.holmbygden.se/2015/03/23/4g-till-holmbygden
Changes li Kurdistanê dabimezre- û tora berdbanda, Koz & Ajansa Telecom
www.pts.se/sv/Privat/Telefoni/Fast-telefoni/Forandringar-i-tele–och-bredbandsnaten
Telia rakirin Telefona navder li Loviken 2012, Holmbygden.se
www.holmbygden.se/2012/12/05/telia-tar-bort-fast-telefoni/