Before the shift to HBU F / T's new website 2012 we have gathered all the old news. The news is sorted in kronoligisk order with the most recent (top). Then there been stated on the previous website has the date indicated on the far right of the title.
| | |
| --- | --- |
| Information about fishing the project in Holm | |

Want to have information about ongoing fiskeprojekt in Holm? Go in the

www.osterstrom-konferens.se and
click on fisheries projects.



Brightly lakes change website

A big fish projects are underway in Holm. The financing is completed and you
expect to get back to work now for the spring. This means,
example construction of boat ramps, bridges etc.. This will hopefully
mean increased tourism and more visits in the district. Several companies are
involved in the project.



Increased bus facilities

It is now possible to call traffic even on Saturdays. The times are the same as
Fridays.


16.50 from Anundgård changing in Kovland 17.20. Return home 21.45 from hub
changing at Kovland 22.00.


09.00 tour from Anundgård go as usual during the winter holidays.



HBU Thank you for your support

There have been some financial contribution to HBU Checkout, and it
we are grateful.

They are:

-Benny Hultman Transport AB

-Modin's Building Services, Liden

-Tomas Sjölund Construction

-Max Måleri

-SCA Skog
| | |
| --- | --- |
| The municipality is investigating the beachside protection | |

Sundsvall Municipality is investigating whether it is possible to make the easing of
a waterside protection. That would mean that it would be easier
to build near the lake, etc.. The municipality is interested villagers and
landowners' opinions and Holm residents will be invited to the meeting later
fall.



The dance in Storåsen

This year's dance trip to Storåsen was carried out on Saturday. An extra bus got
deployed due to the great interest and all passed in friendly
former. The rain threatened the evening was no obstacle. Then a
nice tradition that hopefully will return next summer.



Pleasant day at Holm Vallen 4 July 2010

Sunday 4 July was the activities for Holm residents. They gathered at
14.00 to play softball and have generally nice. weather
played tricks on us by dark clouds and sometimes rain hung over
Holmvallen. But the mood was nothing wrong, and you could carry
the game as planned. After the award ceremony and refreshments could wait
evening and dance the ridge.



Football in Holm

Football season is in full swing, and there are games every week
Holmvallen. Why not make a visit and check out Holm
football activity. Serving hamburgers, coffee, glass m m. are.
Kolla in HSK:website for the times.
www.laget.se/holmsskalag



Summer dances on the ridge

There will be dancing on the ridge, even in summer. Midsummer's opening night, and
then there will be three dance evenings during the summer. It is Holm SK,
Indal-Liden SK and Liden rifle, which together organize
year dancer. You can find more info on the new website:



Holm Taxi changes hands


100422

On January 1 this year changed Holm Taxi owners. From being pushed
now then 1998 left Janne Winroth over the keys to Holmbon
and neighbor Hans Wiklund. Two cars will be his to begin with and to
He is assisted by hired Kjell-Erik Söderberg who also drove in
Jannes time. As most had Janne 6 st cars and 8 employees but His
will thus run two cars with the possibility of stretchers


-Good luck now continue with the company says Janne to his
successor but you can expect a working week 55-60 hours so
redundancy is not.


-But it has been an interesting and rewarding job that I think you
will do just fine ,end Janne.

The pictures show HBU:s chairman Inger Hjelm-Åslin submit a flower
new owner Hans Wiklund and also Janne Winroth hand over the keys to
one of taxis.


Do you need to get in touch with his so call 070-6298825.




spring fishing season


100421

Now offering Holm district fine vårfiske. The sun and the heat is on time and
thus the fishing season. Our district is full of fine fishing grounds
is well worth a visit. Visit the website and inform you
where and when you can get an extraordinary experience.



Ski race at school


100419

Friday 19 March settled the traditional Semmelloppet on
Anund Manor School. Students struggled through the tracks on an impressive
way and rewarded then with prizes and refreshments. As officers were seen
among others, Ulf Åsen and his predecessor Holger Sahlin.



Timra IK visited Horse Tarn




Friday 19:th February had been visited by Timrå's hockey team at the Horse Tarn.
Olympic break meant that it was time for something different than just
practices and games so then took the opportunity to get out into nature
lite fiske m m. If a player got somebody fish is not known.



Football season kicks off




The snow lies in drifts and cold bites the skin but football season is in
full swing already. Holm's football guys have been running training more
than 2 months and this weekend involved one of the first cup. It is
Metso cup played in Nordichallen Sunday 10 jan.
| | |
| --- | --- |
| Lucia celebration in the church | 091212 |

Students at Anund Manor School held the Lucia celebrations in Holm's church Friday
the 11 dec. Light Queen was followed by both bridesmaids, star boys and
helpers. After a number of fine Christmas carols marched to the then
continue in the parish hall with eg coffee.
| | |
| --- | --- |
| winter Fishing | |

Ice humble beginnings lie and winter fishing season begins.
Holm district has several great fishing that can withstand visited. horse Tarn
begins its winter season 9 jan 2010, while brightly lakes already opened.
Visit their websites for more info.
www.hasttjarn.se



Christmas Market


091205

Holms Housewives' League arranged the now traditional Christmas market
Saturday 5:e dec. A dozen vendors had set up their stalls
on the church parking. For those who were hungry could both dogs and
open fire purchased to satisfy your hunger. The site was then on a visit
to delight especially children.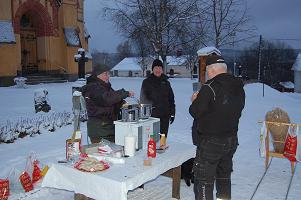 | | |
| --- | --- |
| The guestbook works!! | |

Finally the guestbook at HBU:website up and running. There you go
and write what you want to express or to comment in general.





Welcome.



poker tournament set


091127

Poker Tournament to be taken place on Saturday 28 nov i Vike
school is set pg a lack of interest.



Change of the Österström




Österströms Conference and Recreation driven the last 15 years of
Gun-Marie and Sture Magnusson has recently changed hands. It is one
sibling pairs from the district who had taken over the business, namely Cathrine
Nordic-tank and Tommie Vesterlund. They will also take over dad
Ola Vesterlunds buses so that they can offer both hotel, conference and
bus tours in the future. It will be really exciting to see how they manage
develop Österström ahead and we wish them the course LUCK!



Poker club in Holm?




It leveled a poker club in Holm. To begin with, it will
organized a Texas Holden tournament Saturday 28 November at 19.00 i Vike
old school.


-We want to investigate whether there is interest in a poker club in Holm ,says
Alexander Hjelm-Åslin, one of those who initiated the contest.


Are you interested: please contact Alexander at tel 0731806339 or
Freddan at No. 0738389680 no later than 25/11.



Lecture 23 November on Österström


091121

We meet in Holm


GATHERING INSPIRES CONVERSE


Finally, you get the opportunity to participate in an inspirational evening, with one of


Sweden's best lecturers. What is it that makes us choose one,
over the other?


Welcome to an evening of Creative Marketing.


Lena is for those who want to get some ideas and


inspiration, and a pleasant evening with many thoughtful laughter.


Samples from the evening.


– creative marketing, what is it?


– Learn to see the possibilities.


– Creative tips for marketing / sales


– How to build / caring for the super-important customer relationships.


– Dare to take place!


– Have a mindset of your profile, from square one!


– En stor portion inspiration!


Time: Monday 23 November at. 18-21


Location: Österström


Notification:
kontakt@lrcsundsvall.se



Taken: 100 kr including light buffet


We conclude by looking at the upcoming inspirational lectures and


network meetings.

Information and Notes: Inger Hjelm-Åslin 0731807653



kontakt@lrssundsvall.se or call 060-244 00


For details read more
www.lrcsundsvall.se or



contact Lena Schmidt 070-661 93 28


Local Resource enterprise

– entrepreneurship for women in Sundsvall



Julauktion


091118

The annual julauktionen organized by church work circuit in Holm
will be held on Friday, 27:e november kl 19.00 Assembly in the home,
Anund Farm. There you can normally call in flatbread, gingerbread cookies, tablecloths
and much much more. Participates also makes vicar Lars Jonsson Huss.
Lotteries and refreshments will also be available on the traditional
gathering that seems to be more and more appreciated each year.



Newly renovated apartments


091021

Newly renovated apartments are now available for rent i Anundgård. they appeared
17-18 October and is available immediately.



Information meeting on wind power construction.


091021

Swedish Wind Company Ltd plans to build a wind farm in Holm
and held an information meeting on Monday, 12 October. Fifty audience
had gathered in the parish hall i Anundgård.



Holms SK planning ahead 2010




Football season Holms Sports Club has just ended, but the work
to plan the next is in full swing. Saturday 3 October
gathered Board, leaders and coaches to draw up the guidelines and
the prerequisites for 2010. As usual, we need more people who can be part
in the organization. So if you are interested and want to be part of an exciting
work, do not hesitate to contact us to Holms SK for more info.



Flea market at Holm Vallen


090808

Saturday 8:August arranged Holm Housewives' League flea
the Holmvallen. There they could find both bargains and sell if they wanted.




The dance in Storåsen


090718

Dance bus till Storåsen the 18:e July, vällfylld. C:a 60 people
stepped on roadside. Lotteries etc. during the trip made to satisfaction and
atmosphere was high. A nice and appreciated the initiatives already
become a tradition. The bus was operated by the pilot Ola Westerlund
returned without mishap to Holm on the front of the small hours.



Stark lakes


091205

The range of fishing in Holm is large. A place that probably not many
know is brightly Lakes, where there are trout and the occasional perch.
You get there by going into Kväcklingsbyn and then follow
signs. A nice little place that is well worth a visit.



Graduation


090622

Friday 12 June, Anund Farm school completion for the spring semester.
The customary procession to the church followed by refreshments at school. Of course
it felt good for students to know that the fall regain
continue schooling in their beloved school.



6:June celebrations at Holm Vallen


090606

Despite the rain clouds and cold, it was a 50 number that came to
Holm Vallen, partly to celebrate Sweden's National Day and Anund Farm
school has received additional hope for survival. It was played rounders
and fikades and was generally cozy. Plans are now trying
organizing such meetings again to increase the comfort of the village.


A big thanks to the organizers who have taken this initiative.



HBU courted shopkeeper in Holm




HBU in Holm took the opportunity and courted Alexander Hjelm-Åslin
to award monthly rural entrepreneurs when the village celebrated on
Holm Vallen on Saturday 6:e June.


Pictured from left: Patrik Wikholm, Alexander Hjelm-Åslin, Erica
Forsström and Inger Hjelm-Åslin.



HBU looking ahead




Wednesday 3:June was HBU Board. It summed up as the last
future struggle for school retention. It was found that a huge job
has been made and that the district can mobilize terms.


Now we must look ahead and focus on the positive and Holm
offer. Increased migration and the preservation of services are two of the
important issues that the district has to deal with. And then you have to
get everyone to achieve results.


Saturday 6:e juni kl 16.00 there will be activities at Holm Vallen where
it will celebrate the school's and Sweden's National Day.



Handicap Competitions back




It is time for handicap races in boccia at Holm Vallen. It is once
again Disabled Association fighters who put a contest on our fine
green. The races will start on Saturday 13 June at 10.00 and is expected to be
completed at 15.30.


As always, keep the cafeteria open all day and all who want to see
some exciting bocce game is welcome to Holm Vallen.



PRO courted Alexander




PRO Holm courted shopkeeper in Holm , Alexander Hjelm-Åslin, to the
fine distinction month rural entrepreneur.


– It is very important for our group with a store nearby, so
we hope that it will spur Alexander to continue, says Chairman Staffan
Andersson when he handed over a flower as proof of estimate.



The tourist season in the offing


090605

This weekend's heat wave makes the bath and the tourist season is approaching. sand Näsets
Camping has opened its doors and now offers both swimming and food. We
hope for a nice summer heat and sun, so that people looking for
to camp.



Fiskepremiär in Horse Tarn




Saturday morning at 8.00 was the premiere of the summer fishing in Horse Tarn. I
brilliant sunshine and almost no wind had a considerable amount of fishermen
looking out to try their luck.
| | |
| --- | --- |
| Month Rural Entrepreneurs | |

The shopkeeper in Holm has been appointed to the May rural entrepreneurs.
It is Sundsvall Municipality, LRF and Swedbank appointed Holm Company, and
was awarded the diploma and flowers.


-It feels really good to be remembered in this way and it will be
of course a spur to fight on, says Alexander Hjelm-Åslin.


We congratulate Alexander to the fine distinction.



National Day Celebrations at Holm Vallen


090528

Now Holm residents celebrate. The 6 June is celebrated the National Day and the
Anund Farm school anyway are saved for now.


Location: Holmvallen


Time: 6 June at 16.00


It will be played rounders, bowler, mm ball.


Grills will be available so that the flesh can be taken.


Even the kiosk will be open.


Is there anyone who wants to donate some cakes so be it gratefully received.


Please contact Erica Forsström 070-3846453


All are very welcome!



PRO-Ball




PRO Holm plays every Tuesday at 12.00 boules at Holm Vallenses grusplan. new
Players who know to try is welcome.


Tuesday 18 August at 10.00 holds PRO Holm club championship in bowls on
Holm Wallen gravel.


Information is provided by Allan Sundberg 0692-30048



No Holmsjön around for years.




DETR is unfortunately no Holmsjön around on a bike in years. it informs
organizer Alexander Hjelm-Åslin.


-There is much to plan and organize, and I feel that I do not
really have the time right now, Alexander says that does not exclude the
the race may come possibly by next year.


-It would be desirable if anyone other actor could be involved in organizing,
concludes Alexander.



Holm's church being renovated.




Holm's church is currently undergoing renovation. It is the roof and church tower
to get new plate . The work is expected to hold on until October.



Joy rulings on Anund Farm school




The political majority has decided to seek broader majority for
to work in peace. This means that Anund Farm school saved from
closure in autumn. If now the issue will return in the next school year remains
to see. But next year is an election year and it should probably not be disregarded, for
politicians tend to be more cautious when.



Handicap races at Holm Vallen




Handicap races of bocce organized 16-17 May became a really
successful event. The races were a DM had 40
participant. Saturday offered some mixed weather played as
individual competition for the Sunday shift to team play. The other one
the competitions could be implemented in the best possible weather conditions and
everyone was happy and satisfied. Holm's Sports Club who ran meals and kiosk
received the highest rating of those gathered. Even funktionärena from PRO received
with distinction for his judgments efforts. The next race at Holm Vallen
becomes the 13 June.



fish Start 2009




Summer fishing season in Horse Tarn starts Saturday 30 May at 08.00.



Rounders Tournament at Holm Vallen




There are plans for a softball tournament at Holm Vallen on Saturday 6
June. For more information left by Alexander the deal.



bonfire 2009




There was not much to choose from for this year's celebration last April.
No bonfires near. Then took Alexander Hjelm-Åslin, Erica Forsström
and Lasse Hallberg a particularly good initiative and arranged a bonfire
below the village, more particularly the treatment plant. A lot of people
gathered and everyone could view vårelden. It just shows what little that
needed to create some good atmosphere and comfort.


More of that Holmbor!



New hope for Anund Manor School




Despite gloomy noises have new hope has been lit for closure threat
Anund Manor School. The case återremiterades at the last City Council so
now Holm residents returned hope to keep their beloved school.


A solid work from the local school board and HBU seems to have given effect.
But you can not cheer for the local authority has said it wants to try to
a decision in early June.



Årsmöte #ShepherdsHut




HBU





Holm district's Entrepreneurship Development & Tourism





ANNUAL MEETING




On




The parish house i Anundgård




Sunday 15 Mars 2009 at 18.00




We will provide refreshments




Welcome



Theft of furniture for rest areas


081020

Last spring, put HBU out furniture 3 pieces resting on road 320 between
Holmsjö Butt

and Nötåsen just west of Anundgård.


In two places, these are now being stalked. The furniture was locked so
it took some work to get them loose. The thefts are reported to the police and
you seen anything suspicious, please call the police and give advice.


These furniture was supposed to give passersby a resting place that
stay at

and have a coffee, and admire the fine views. It is very sad
all this happened.



Holmsjön Around / Cykellopp


080708

Holmsjön Around


Cycle race for all implemented 12 July 2008.



Great Holm race – as 5,7 one thousand

The race goes around Holmsjön, a distance of about 5,7 mil which about 2 mil on
gravelled.

Start: Sandnäsets camping at. 10:30 – 11:00

Goal: Sandnäsets camping



Little Holm race – as 2 one thousand


The race goes from Holm's Church and follow Holmsjön until Sand Näsets
camping.


Start: Holm's church at. 12:00 – 12:30

Goal: Sandnäsets camping


If you have questions call 0692-30055



Little Holm Cup


So, this year's Lilla Holm Cup completed and Indal took his second
mortgage in price hike.


That 70 boys and girls with leaders, parents and siblings made it
was a successful day at Holm Vallen.


1:a Indal IF P10

2:a Sund IF P10

3:INA Sundsvall P10

4:A Stöde IF P10

5:A Kovland IF P10



Holm Sportklubb want to thank everyone who helped and contributed to the cup
implementation.



Temakväll about ungskogsröjning


080605


Lövungskogen




Problem or opportunity


?



Disadvantaged young forests can be very profitable if you are clearing now!





Welcome to an evening on 18 June on the young forest clearing in

Anundgård-Hampåkern





The program starts at 18.00 and end at 20.00


Among others appear Iron Horse with cranes




Follow signs between Liden and Holm's Church We offer refreshments





Organizers:JiLU-Tema Skog, Board of Forestry and Norrskog



Holm district gets out of the closet


080610

The 21 May overall umbrella of HBU / FT (Holm Appliance Development
/ Business & Tourism) ten of Holm Bygdens compounds to a meeting
with the goal of creating a powerful network. The network
is to accelerate the positive development of the nyinflyttning
families and to strengthen local tourism industry.


The network aims to create synergies between the associations and the
local traders and to assist in the marketing of all
activities and range available in the immediate area with a concentrated
activity guide that provides an overview and prevents collisions of
activity.


The meeting was supported by the Sundsvall municipal business developers, Kristin
Eriksson, and Hans-Erik Näslund, LRF, with particular expertise in
local development.



Nacksta school visits Knife Tarn


080626

Friday 30/5 visit throughout Nacksta school, as 200elever, Knife Tarn
for fishing and other activities.




HBU start networking with associations in Holm


080526

The 21 May gathered HBU / FT ten of the district associations to a meeting
To investigate the interest in building networks.

Chair. Inger Hjelm-Åslin had the support of rural developer Kristin
Eriksson, Sundsvall Municipality and Hans-Erik Näslund, LRF, with special
expertise in local development.

The next joint meeting is planned on 27 August.




Holms FVO develops fishing in Holmsjön


080523

Holms FVO is developing business fishing Trolling for trout
in Holmsjön with Anders Johansson (companies Salkservice) and
Österström Conference.

Together with the Baltic Power Conference are already undertaking fishing
Lilljärptjärn.

Holms FVO also conducts breeding fish for Båthällaöring with
Leringen and Sörbygdens FVO using Kennet Ottosson
Agricultural Society.

Holms FVO has stood for winning fish in the trout category 2 anyhow and
focusing this year on a "Hat Trick".


Trollingbåt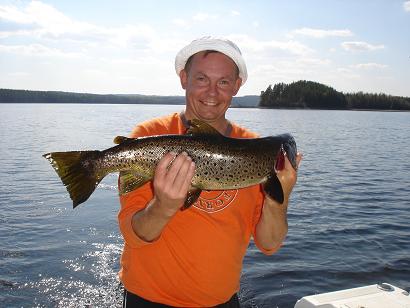 – slut –