Lokal för nästa är nu bestämt till Församlingshemmet, Anund Farm.
Time / Date: Wednesday 5 December at. 19:00.
ALL are welcome to listen and discuss over a steaming cup of coffee!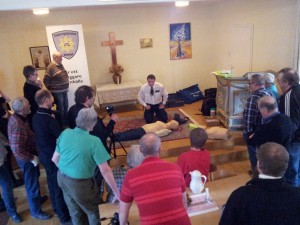 .
For those of you who were not at the previous meeting discussed among others. skollokalen, vindkraftverken byggstart, bensinpumpen, kommande luciafirande i kyrkan och julaktionen.
.
.
Vi som var på mötet bestämde bl.a. att vi personligen skulle bjuda in ord-förandena (eller utsedd) ifrån varje förening i Holm (10 st) and Business med turismverksamhet. Alla insocknes liksom utsocknes intresserade är dock välkomna! Vi hoppas att det skall göra att många kommer och ett bra samarbete kan utvecklas i Holmbygden.
Läs mer vad som diskuterades på Holmvallen 21/11
CLICK HERE TO VIEW.Close.
Previous meeting: What happens to school today?
Superintendent Hans-Olof Sandström says he has talked to all parents (does not - not Patrik eg) and everyone was pleased to have the children in Liden. Local issues were discussed further.
Previous meeting: Is Österström district association remained? Will there be a gym in Österström?
No party venue remains today. Billy tear out nedervåning, will be private accommodation, Facilities planned outside - for all Holmbor. More information on

Holmbygden.se/foreningar/osterstroms-bygdegardsforening/

.
Bagarstugan remain with the compound for rental.
Previous meeting: Flyers about the website and the meeting shall be made and put in mailboxes around the Holm. FLYERS is written by Niklas, sent to Patrik by Anders ("Leased buddy") Fixed entire printing 500st. flyers have 121121 been time distributed from Gimåfors to Anundgård. Ingela, Kent Å, Catarina and Kent further provides dividend N.
Previous meeting: Upprop i Holm! We must try to use what's on the village today to our needs. Niklas has signed with the Flyers, which has been / will be distributed.
Previous meeting: Can we fix a hearty picnic at Sjöändan the intersection with view to Holmsjön.
Catarina / Kent has not got hold of the relevant Transport Agency, would return. However, you can not see the lake ... is it really that good forest party's left?
Previous meeting: What's up with petrol pump. Alexander seems to want to get rid of the pump? Have talked with PEMA for refueling. Did not sound like they want to take over the "gas station". Better if someone / association wants to take over. Creating a village association / cooperative? Easier to get money contributions as. What does the pump have today? Current, kortautomat m.w.?
JANNE checked with Alexander how it works now:
It is true that Alexander wants to get rid of it. He wants to be, however, sell refrigerators, compressors, etc.. while the pump. We also discussed various options.
Examples of the takeover are from Sollerön, Dalarna. A model for us?
Look how they've done in the protruding notch anchor and Sörbygden?
Kent checking further with PEMA ...
Previous meeting: Thomas checks with Ljustorp how they run the pump and store in a collective model.
Talked to a former colleague, a village association owns the store with all the gadgets (freezer, kyl etc.). Then they rent out to a businessman who runs it. Here in Holm, the situation is a little different with a private owner of the property, then want to sell freezer o fridge while gas station.
Lower payroll taxes in Holm for some companies p.g.a. it is in the support area (Naval, flights and taxis transport). Janne have drifted previously in Taxi Operations. Niklas writes with the company on the website to stimulate entrepreneurship in Holm.
of roll in Stugun first ... 4 was, the year after 125 was. Such competition should be able to work here with, especially with the new fine ramps around the lake.
We need to get more positive news in the papers and internet Holm.
TV movie has been made Poles in summer. available?
700 € with trips and boat M.M.. from Poland.
the. wind: Cable has been drawn to Lövåsen from Liden. Tanks available for expansion in the future is. Built Peng diskuterades.
EULOS has taken over the project from Vinbolaget.. No shares will be sold. EULOS have interest to have contact with the villagers directly and give us byapengen directly without the municipality as intermediaries. Make sure that we cooperate and not compete between clubs in Holm.
Not as much commitment today to keep up leads for scooter. Do people do not come up and go snowmobiling in the same extent. Sadly.
leisure Tips! Skating rink now Lillsjön and Anundgård Lake.
Must be the Lucia celebration 13:e in Church.
Julaktion the parish house in two weeks. Even more info on the protection of accidents in the backwoods. Cardiac Arrest (SOS operator decides) road accident, fire and drowning (RTJ internal command decides) interact through SMS in the backwoods. (Ljustorp, Holm, Överturingen, North Hazel and Magpie trial locations).
Heico Basten, occupancy consultant accommodation in Stöde (Originally from the Netherlands), talked about his company Destis and their opportunities. Driver in support district cooperation by a socalled. Project Leader. The church is the project which. 2 families have moved into, 3 fam. on the way, 1 to our. VarVar emigrants bl. a. via EU:the largest migration exhibition in Holland, site,

communities

.

IT-kompetens behövs i Sundsvall. Many want to work in town, but stay in the countryside. The distance to town is no problem in their case. Not as many manage to sell the house now in Holland, but many need jobs. Det som lockar är natur och livskvalitét.

Ett samarbete med Heico och hans företag Destis vore till gagn för Holm. Funding is required, however,. A Leader project can be started. It requires commitment to keep the. Björn Norling, Mittlandsskogen, can tell you more and know how it works.

Ensure one from each association will at its next meeting.


HBU F/T – Holmbygdens Utveckling Företagand och Turism – Erica Forström

(Janne contact)
Holm's Sports Club - Owe Eliasson (Thomas contact)
Holm's Local History Society - (Thomas contact)
Holms Husmodersförening - Greta (Ingela)
Draka The mountain snowmobile club - Motorcycle and Snowmobile - Jan-Erik Nilsson (Kent)
PRO Holm – Staffan Andersson
Gimåfors Bygdegårdsförening –
Vike-profit trade association - Holger Sahlin (Max)
Österströms Bygdegårdsförening - Carina Hultman (COMES?)
Österströms Estate - (Thomas)
Sandnäset – Diane (Pontus)
Roland (Janne)
Fiskevårdsområdet – Stefan Maina (Pontus)
Council of Churches - Ulla Grelson (COMES?).
Next Date 5:December at 19:00, Församlingshemmet. Gunilla see if we can borrow school, alternatively Församlingshemmet. Gunilla see if we can be in school, alternatively Församlingshemmet. Niklas announces the next meeting on the website and via e-mail.