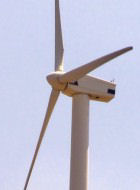 For those who wonder where all the giant propellers transported by Holm recently taking the road you can get the answer tonight. The wind farm at Mörttjärn Mountain, Albacken håller ikväll öppet hus kl. 1830. Här kan man även få en vink om hur det kommer att se ut i Holm när vindkraftbygget kommer igång på allvar.
Buss avgår även från Albacken vid 18:00.
Read more Vindkraft Norrs hemsida och i deras månadsbrev.