Latest News:
7/11 SR: Migration Board will look at municipal data (at 00:27)

.

.
Sundsvall Municipality speak out now against an asylum accommodation in Holm. As this is a national issue, however, is the decision of the Swedish Migration Board.
.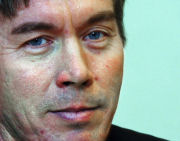 .
The 18 September wrote HBU Stefan Söderlund and informed about the proposed asylum accommodation in Holm and asked for his views as city manager of the establishment as we felt concern. The 2 October he replied HBU and would provide information on the case..
.
Today, says the municipal manager to Sundsvall Tidning and Swedish Radio that the Municipality of Sundsvall think Holm an inappropriate place for an asylum accommodation for several reasons. People with trauma should get as good a position as possible. It must in particular be a service. Building infrastructure is manageable for one to unfold written asylum accommodation.
7/11 Sundsvall's Newspaper: "No asylum accommodation in Holm"
SR's entire interview with the municipal manager Stefan Söderlund (at the time 03:19:18).

The County News on asylum accommodation in Holm (at the time 02:12).

7/11 SR Länsnyheterna: Sundsvall city manager to stop asylum accommodation