NEW:
SR: Listen to a longer story with interviews Holmbor in SR's After three (10 my)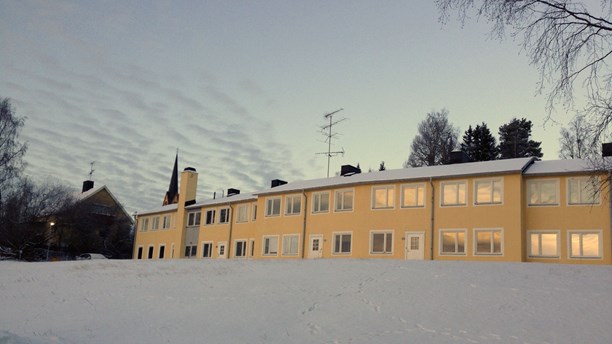 Swedish Radio attention today they neglected Ukrainian workers bequeathed at Aros Energideklarationers planned asylum accommodation in Holm.
It began with a concern among villagers in Holm in September by the Migration Board's decision to award Aros Energy declarations were approved in a first step to get open asylum accommodation in F.D.. Johan Stendahls called "Skandalhus".
The question you asked was about Holm residents would now have to take care of the refugees hitkommande. The question was justified when Aros Energy declarations previously shown that they are unable to take care of the family who today live in their properties. Since the company is not paying electricity bills became family in August suddenly without power for two weeks. Despite being warned at the beginning of the summer. It has since continued to Aros Energy declarations do not respond to the Environment Office's request to respond to health threats such as black mold in the home.
It now appears that instead of the refugees are the utlänska renovation workers that Aros Energy declarations had at their properties in trouble. The payment they have been promised for the work has not materialized. They were then left in the company's properties, without anything to do and without any opportunity to go anywhere to buy food. When they'd retrieved from there it did not appear any.
They have tried to fish in Holmsjön, but it gave no catch. Now the villagers neighboring farm i Anundgård been set up and driving them several times to slide to buy food, so they will not have to starve in winter.
Swedish Radio today visited Holm and interviewed Janne Winroth, next door to the house that Aros Energy declarations rent inherently Ukrainian construction workers.
Johan Hallberg representing both Aros Energy declarations and the company Gesade Construction- and Fastighetsservise as has the construction workers in Holm. Despite the fact that he represents both of them, he says he does not know that there are no workers left.
– "If this is correct facts, I share your view that this is not good", he comments only.
Michael Sterner and Bengt Staaf owns Aros Energy declarations and housing. None of them answered the Swedish Radio requests.
It remains a mystery for Holm residents who must take care of them, how they can be left completely free to those who hired them did not know about it.
Listening to radio broadcasts from Holm
11/12 After three SR: Further reports of interviewed Holmbor in SR's After three (10 my)
11/12 SR card element: Abandoned construction workers in Holm
11/12 SR: The County News 09:30