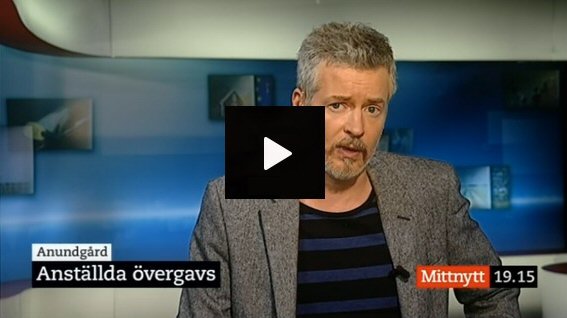 See the news broadcast from Holm on the Employees were abandoned.
Mittnytt noticed the abandoned utlänska workers left in Aros Energideklarationers asylum housing and underlines the responsibility of absence.
Interviewed neighbor to the workers in January Winroth talks about the workers' situation, without transport facilities and the chance to buy food.
– On Friday, I drove three construction workers to the store and when they said it was the last money they had, says neighbor January Vinroth to SVT Mittnytt.
The workers have been living in the homes that they renovated and tried to add to the food supply.
– They have stood in the biting wind and tried to fish.
The four construction workers, from Ukarina, came to Sweden October 1 to make money on construction work. They have Vinroth told that they were not paid for their work. – Is it that he is left until Christmas, he obviously get into Christmas dinner, says Vinroth.
The union building visited the construction site and is critical. Jim Sundelin the building mean that it is a labor market that is not doing well.
– When we arrived there was no supervision on site. We contacted the employer threatened to sue us, said Jim Sundelin, Chair of Building Mellannorrland.
Construction also question the Migration Board is ultimately responsible for having requested aylsboendet in Holm. – It can be said that it is strange that the government agencies are involved in activities that are a little gray.
Arbetsmiljöverket called the developer Vitaliy Dragnysh. – I called him up, and at first he was responsible, but the more questions I asked, the less responsible, he said to be. He finally said only that he was not the manager. After a while the conversation was broken, arbetsmiiljöinspektör says Ann-Cathrine Danielsson.
After some detective work, the work piece to be told who owned property. The property owner, announced in turn that it was a completely different company, than the inspector first heard of, as did the restoration on their behalf. According to the property owner would be companies that had been working responsibility, but in fact asked more detailed questions there was silence.
11/12 SVT Mittnytt: regional news 19:30 See the whole element of the workers in Holm
Read more
11/12 SVT Mittnytt: Construction workers were left
11/12 SVT Mittnytt: General sharply critical
11/12 SVT Mittnytt: Difficult working investigate responsibility