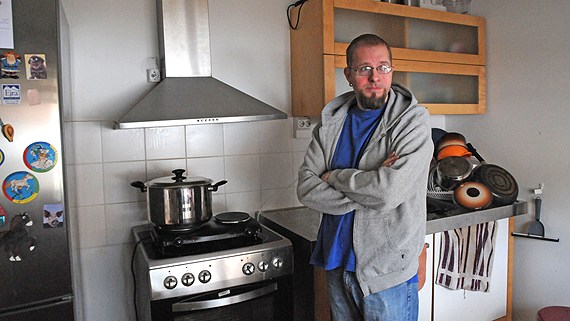 The company behind the proposed asylum accommodation let Benny with children heat water on hot plate in a cold apartment, with 70 meter extension cord drawn to the neighbors.
by name "Aros Energy declarations" judge allows it unlikely that they will not be able to have control over their own energy. Reality is different. Last week died once the current in the buildings it manages in Holm and a family with children will, despite the winter cold again, fighting for electricity, heating and hot water. Villagers' concerns over the proposed asylum accommodation property found to have good foundation.
Six months have passed since the carousel re-started in Johan Stendahl old "skandalhus" i Holm. This time it was planned an asylum accommodation to the Migration Board with more refugees than live in the entire Anundgård. Concern spread in the village. The people behind the company lacked confidence among locals after nearly a decade of mismanagement of real estate and litigation with the people and businesses in the area. Asylum accommodation, however, at least not yet become a reality, but this week has been a clear proof of how it could look like if it existed. 156 Refugees could thus today have been energized without heat and water in Holm – in midwinter. Aros energy passports have several credit history and after a number of unpaid bills decided power company E.on to switch off the ' "Skandalhusen".
After that the other tenants had to move from Holm because of abuse, it is now just a family that struggled to remain. Last week, they were without power in his little house at Senior Home. This only six months after it has been without power for eight weeks in the areas they are entitled to.
Nor have the owners of the Senior Home, Lis and Bengt Staaf and Bernt Blomberg, orderly clearing snow and gritting in the winter. Although they are required by law to account for the. Lis and Bengt Staaf visited their tenants just after Christmas and promised personally think it would be arranged as soon as possible. Today, it is clear that it was just empty words.
Michael Sterner, who is the representative and partner in Aros Energy declarations dispute now over E.ON on electricity bills and the Environmental Office of the mold damage tenants living with which they are not resolved despite injunction. At the same time they are trying constantly to get young families to move away.
Read articles and listen to stories from Holm in past week.
12/3 SR – The County News: Normally a week Listen!
12/3 SR – Afternoon P4 Västernorrland: Interview with the Tenants Association Listen!
13/3 SR – The County News: Property sealed cabinet Listen!
13/3 Sweden Radio.se: The electricity is turned off at Benny in Anundgård
13/3 Both & Rent: Family with children without electricity for a week
13/3 SR – Afternoon P4 Västernorrland: Intervju med E.on Listen!
14/3 Both & Rent: Values ​​refuses to pay - now offers the power utility company
.
The situation is not new in itself. Aros Energy declarations saying that the former owners of the properties are not currently involved in the company. Despite this history repeats itself time and time again over the years regarding deficiencies in snow shoveling, Sand, paid electricity bills and try to get the tenants to move out with various levers.
Previous issues of the same type when Johan Stendahl, Toboholm, stood as the owner of Scandal houses
2009 29/4 Both & Rent: Receivership could save families
2009 2/6 Both & Rent: No administration in Holm
2009 22/1 Both & Rent: Tenants in Tobo, no snow removal
More links to Aros Energy declarations in the media can be found here.