updated 14/4, listen to the day's program:
SR P1 Vetenskapsradion Forum; When citizens are called out (Holm; 15:00-23:03).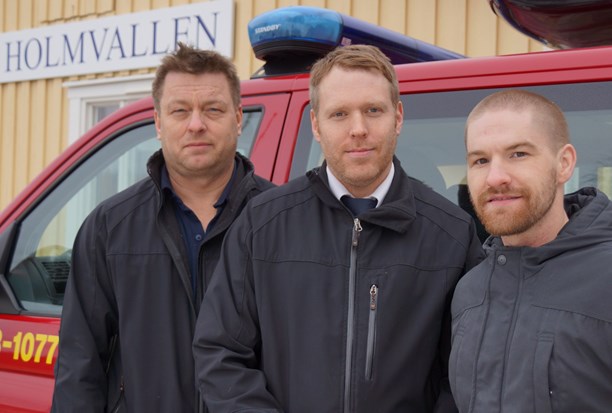 Thomas Åslin and Erik Hedlund from Medelpads Rescue Association and Niklas Wikholm, voluntary project reinforced neighbor. (Photo: Urban Björstadius).
Sveriges Radio P1 Vetenskapsradion Forum interviewed Holmbor about the project "reinforced fellows" in sparsely populated areas. On Monday P1 pm. 13:35 broadcast program with slogan "When citizens are called out". Since 2012 Holm has had its own defibrillator that villagers themselves raised to the originator Olle Frisk. The same year launched Rescue Medelpad a project and when educated about twenty volunteers villagers in Holm who were willing to stand in an accident. Since the end of January this year, the system is commissioned and the volunteers can now be alerted by SOS at an event. The idea is to have a great opportunity to be faster in space than ambulance and emergency services, and can start a first aid to someone in need. Without the requirement or obligation, can you along your own ability to help those in distress as best you can.
Vetenskapsradion P1 doing right now a program series with a review of the emergency services around Sweden. As part of the visiting Swedish Radio project Örtenholm week and talked with staff from the Emergency Services, including Thomas Åslin from Västbyn in Holm, who was project manager. Niklas Wikholm, one of the local volunteers called "Duty fellowmen" also interviewed about why they are the volunteers and how it can be alerted in an emergency situation.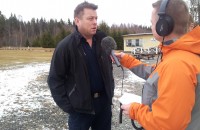 The program broadcast on Swedish Radio P1 Monday 14/4 13:35, also Tuesday 15/4 19:03 and Saturday 19/4 18:15.
Read more about Monday's program here at SR.se.
Emergency Information for Holm right can always be found easily via holmbygden.se / acute or via the Red Cross

right of the front page.
Previous articles on the subject on the website and in Sundsvall Tidning
2012 17/12 Sundsvall's Newspaper: Less protection in rural areas
2012 17/12 Sundsvall's Newspaper: A text message to a neighbor can save lives
2012 16/12 Holmbygden.se: Holm's new "local lifesaver"
2012 9/12 Holmbygden.se: Do YOU ​​want to be a lifesaver in Holm?
2012 22/5 Holmbygden.se: Holm's defibrillator - now in service!
2012 10/5 Holmbygden.se: Demonstration of Holm's new defibrillator 15/5!
Here you can read and listen to earlier reports from P1's program series
31/3 SR P1: Increased costs when emergency services save
7/4 SR P1: Municipalities violate the law