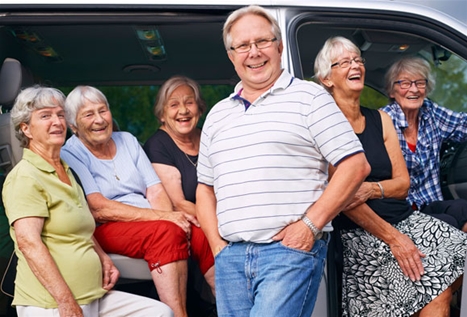 Lasse Vågberg, Rural own joy spreader surrounded by from left Gulli Wikholm, Gerthy Eriksson, Gunnel Eriksson, Ingrid Wikholm and Mariann Enbom.
Hemmets Journal has this year contest "Sweden's best
bus driver" with whole 200 designate which one of the five finalists Lars Göran Vågberg from Vike. The prize was established to honor to celebrate the everyday joy spreader.
In rural areas, there are often enthusiasts who are passionate about a little extra to what they do and life easier for fellow human beings. Lars Göran Vågberg is such. He is their customer handyman when he was transport to the business, health center and bank M.M.. "It seems so obvious to assist", says Lasse. A nice, happy and playful person with a good sense of service that is well worth voting for. Read more here about Holms candidate.
Vote on the Internet: Go in the www.hemmetsjournal.se/Sweden basta
and cast your vote. You can only vote once from the same computer.
Vote by SMS: Print "HJ HJPRIS 5" to 72772. with capital letters. thus HJ(space)HJPRIS(space)5. The figure 5 means candidate No. 5 which is Lasse Vågberg.
Vote with postcards: Write your name and address and the name or number 5. Send the card to "Sweden's best bus driver", Hemmets Journal, Box 17, 231 21 Trelleborg.
You can vote until 17 October. The winner is presented in the Journal of Home No 48 i november.
Read more here "Service buses" Lasse running between Holm and Liden.