Obs! Free food for all children!


Tipi erected in the middle of the village for the preparation and serving of the district's best homemade wok!
As a result of the wind farm inauguration of Nötåsen arrange HBU on Saturday 31/1 at. 17 in cooperation with Eulos a village party for the whole family at the church barn i Anundgård. All Holmbor and nonresidential interested is welcome to find fellowship and warmth of kyklogen with our heated tent in the middle of the village.
The district's own gastronomy scholars will serve homemade wok on Muurikka in the hut for a cheap price (50:-) and in the church barn awaiting an entertaining play of the famous troubadour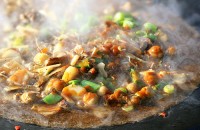 Tobias Larsson. Spices and sambal is to round out the food and the drink for thirst needs offered in the right scale. Delicious snacks lighter character also offered. Listen to the happy singing and enjoy good food and fellowship.
A warm welcome!
Listen to a preview of Tobias Larsson below