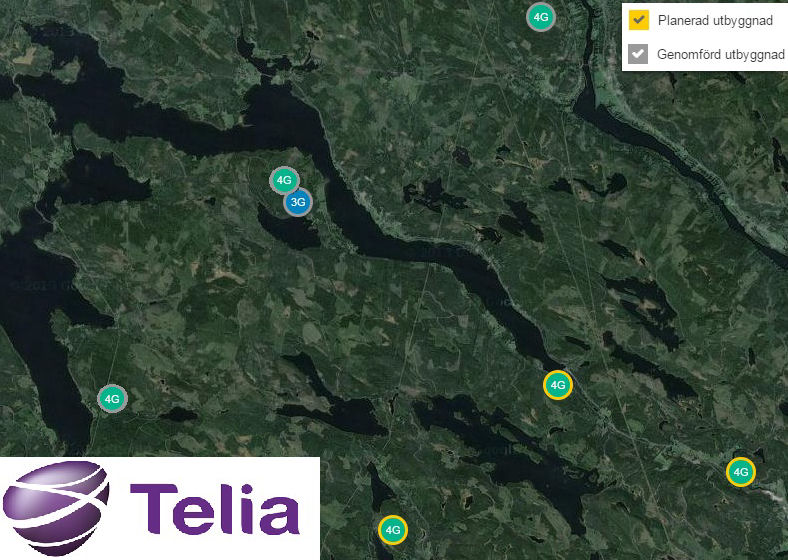 Many holmbor may have already noticed that it is now quicker to surf in Holm! It is currently Telia billion initiative on the mobile network, which has finally been reached Holm district. Although Tele2 and Telenor plans to offer 4G in Holm.
It was in mid-December 2014 Telia upgraded mast in Sunnansjö (opposite the bathing in Västbyn) with 4G capabilities. It is now possible to surf at speeds of up to 40Mbit / second, over prior up to about 12Mbit / sec. In order to use 4G as it is required that you have a subscription to 4G and hardware (cell phone / mobile broadband stick / tablet / mobile router) that supports 4G. If you are unsure, check with your carrier.
At the same time was also a doubling of 3G capacity Sunnansjö mast. Telia and Tele2 share its 3G network so this upgrade also to the delight of Tele2:s subscribers who surf through 3G. Because voice traffic now uses the 3G network should also make regular phone calls work better than before.
Do you Net1 mobile broadband (of the old NMT network that usually provides better coverage, but is slower than both 3G and 4G), it can therefore be no reason to change operator depending on where you live. If you are not sure which speed you can get with Telia and Tele2, so you can always try their services at home first. You always have a right of withdrawal 14 days if you ordered subscription by phone or internet. Alternatively, ask someone with Telia / Tele2 measure the speed in which you live.
More 4G Master again!
There has still been a problem to get good 4G coverage through Telia in Sjöändan and along Pour Inge-straight (also called straight Hultmans). Telia will shortly (calculated completed by end of March 2015) To install the 4G capabilities of both Draka rock-mast and Sodalen-mast. This should almost the entire parish to surf at 4G speeds.
UPDATED October 2015: Telia is now (after delays) finished with 4G deployment in both Sodalen- and Draka Hill mast. Both masts have also been enhanced 3G.
It was previously also a few holmbor in Sjöändan who had 4G coverage via Tele2 and Telenor (sharing the 4G network) via Sodalen-mast.
It is rumored now that Tele2 and Telenor currently in the planning stage to erect a new mast for 4G on the other hand Holmsjön of Österströms mansion. The hope is to make this clear later in the year, but none is currently determined.
4G – no substitute for fiber connectivity
Although 4G is a big improvement over 3G so it still can not compete with a fiber connection.
Advantages of fiber connectivity: The capacity of a fiber optic cable is extremely large and can easily be used simultaneously for the home phone, TV and Internet. You can get rates as high as 1000Mbit / s (compared with up to 40Mbit / s for 4G) and there is no limit on how much the amount of data you can use per month. The reliability of the fiber is very high because it is buried cables. The value also increases your property when you pull into the fiber. Especially in rural areas.
Disadvantages Mobile Broadband (3G och 4G): Mobile broadband provides a limited speed that all users on each mast sharing. The further away from the mast you are and the more users connected the worse coverage and speed, you get. Mobile broadband is not suitable for constant high data traffic, For example, television and film. All operators have a cap on how much data can be downloaded per month and it is expensive to buy more amount of data when it runs out. demanding online (computer- and video games) You can not play on mobile broadband.
Read more about the various broadband options in Holm and see the different coverage maps for the different operatörena on the new "Broadband page" https://www.holmbygden.se/service/bredband/
Sign up for Holm fiber deployments now if you have not already done this!
https://www.holmbygden.se/foreningar/holm-fiber/
18/2 -14 TV report from Holm on miljardsatsningen.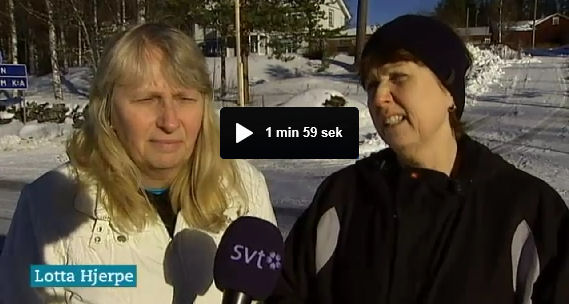 See SVT Mittnytts reports Holm what the villagers think about the initiative (13 MB).