(Emergency Information for Holm right can always be found easily via
holmbygden.se / acute or via the Red Cross

right of the front page.)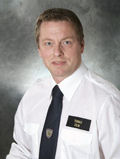 Thomas Åslin Holm was interviewed by Swedish Radio for the successful project "enhanced neighbor". The project started in January 2014 with Holm first in Sweden where volunteers get a text message from the emergency when someone is in need,. Today, there are further eight locations localities connected in Medelpad, including Sulå. The program interviewed Thomas Åslin the Rescue and volunteers in the project.
Listen to the radio story here



– Problems with the player above? Try audio file in mp3 here.
– Learn about the story of Swedish Radio here.
.
.
Two fires in Holm last month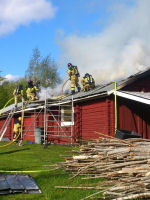 So far Holm Reinforced fellows pulled out to a total of six accidents and only in the last few weeks there were two fires in the countryside. In Österström helped reinforced fellows with quickly evacuate a BOTTLE OF LIQUEFIED PETROLEUM GAS and fuel containers from a burning barn (storehouse) before it was filled with smoke and dressed except for rescue response. As a rule, the risk of explosion when life is to save the left otherwise estate burning up.
Read more about the fire at N4U.se.
(The images may malfunction in mobile, but work better on PC.)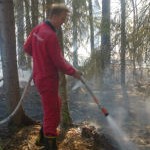 .
Last week was also attended by volunteers at a forest fire on an island at Nortjärnsgårdarna i Vike. Using borrow a boat of villagers to get to the island you could with a bucket and water virtually extinguish the entire fire before the arrival of rescue services. Read the article on ST.nu.
(The images may malfunction in mobile, but work better on PC.)
.
.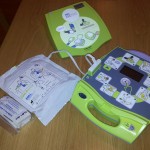 .
In addition to the fire alarms SOS Alarm also in traffic accidents, drowning and suspected cardiac arrest. Earlier alarms in Holm then strengthened fellows have participated have been grass fire, soot and two cardiac arrest.
..
More volunteers reinforced fellows needed in Holm
In Holm's fifteen people involved in the project and when the emergency receives a call about an accident in the district gets them an SMS and can then (if they are able) help. Most participants, however, live in the present, gathered i Anundgård and more resourceful people scattered around the Holm needed! Can you imagine, without obligations, to assist in an accident? The hope is that we can eventually get Reinforced fellows scattered around the Holm district.
DO YOU WANT TO JOIN?!
Register your interest here. The information passed to the Rescue. Hopefully we can eventually get Reinforced fellows scattered around the Holm district.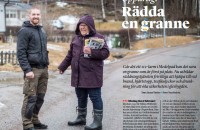 Nowadays the nine villages in the project. Besides Holm, it Skatan, Norrhassel, Sole and Indal in Sundsvall Municipality. Överturingen, Byberget and protruding notch anchor in Ånge Municipality, and Ljustorp in Timrå. Read more stories about the project in Holm with film- and radio clip here.
.
Learn Holm defibrillator (stored in Olle Frisks vestibule)
Heart starter in Holm speaks Swedish instructions and tells exactly how to do.

Watch and learn how to use the model of defibrillators available in Holm.
TV4 News; Volunteers livräddar in the villages

See the TV report about Holms reinforced fellows.
Source: TV4 Sundsvall; Volunteers livräddar in the villages 14/5 2014.
Emergency Information for Holm
More information about emergencies and what help is available in Holm found here in Holmbygden.se/akut.