SVT attention Håkan Larsson Bilkonsult AB's plans to open an asylum accommodation "Stendahls skandalhus i Holm". It has prevailed feverish activity in the so-called scandal houses recently. What normally is neglected and overgrown with residential tenants who have been forgotten recently refurbished extensively prior to presentation to the Swedish Migration Board.
Håkan Larsson who owns the car company Bilforum in Örebro is it this time who say they want to open an asylum accommodation in Holm. Noteworthy is the third time (least?) in order that a previously unknown company suddenly want to open a refugee accommodation in the very skandalhus previously bought by Johan Stendahl. The man with countless bankruptcies, debt of just over a quarter of a billion, and convicted of, among others. financial crimes, assault and more and considered by many to have mismanaged the properties over the past decade.
In Holm has long been doubted all the different owners the confidence to open a property when it is not able or willing to take care of the few tenants they already have. A family was without power three months at a stretch and Håkan Larsson is still not for electricity, even though he is obliged to keep the. It would be a much more difficult undertaking to take care of 200 refugees from war-torn countries that they now want to run riot i Anundgård, with 90 permanent residents.
SVT attention today Håkan Larssons plans now that they raised for the upcoming inspection by the Swedish Migration Board. Read more on SVT's report about the scandal.
6/8 SVT Nyheter Västernorrland: Asylum Accommodation again in the current scandal houses.
.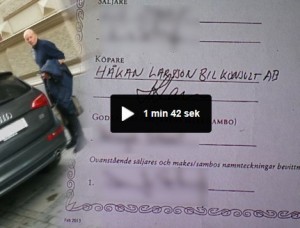 UPDATED 7/8:
See SVT's continuation of the story and listen to the full interview with Håkan Larsson in which he denies that he knows Stendahl.
17/8 Holmbygden.se: "New owner Håkan Larsson lied on television about Johan Stendahl".
.
Links:
Previous newspaper, radio and TV reports about scandal houses in Holm.