Match of the Day Live! Make sure you have the best quality of the gear on the bottom right. In case of any technical problems, try instead HSK's channel holmssk.se/youtube.
Tonight 20:15 Holms SK plays away against Alno IF. Watch the game on Balderhovs IP artificial turf or with Holm district's Live TV on the TV / computer. The resistance is going to be tougher than it was last Thursday, when we are faced Alno IF leading the series (on goal difference) after first round. Tonight, it looks like we do not have the rain and hoping for a little better picture quality than the last.
UPDATE:
Due to new technology, it was unfortunately poor focus / sharpness of the image during the match, the first two-thirds. Touch-up is promised for the next live broadcast.
Hopefully also in terms of results ?
Next game: Holms SK – Indals IF.
Thursday 17 May. 19:00
Holmvallen
Tonight's stream ("embedded" above): https://www.youtube.com/watch?v=Rq56UUiuqSg&feature=youtu.be
HSK:by Youtube-Channel: holmssk.se/youtube

READ MORE: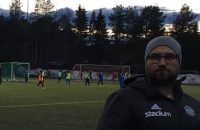 Lineup:
1.Thomas Axelsson 2.Kristian Karlsson 3.Oscar PQ Palmqvist 4.Thomas Eriksson5.Johan Hallström 7.Andreas Kotermajer 8.Andreas Nilsson 10.Niklas Wikholm 11.Gebremeskel Elias 12.Micke Johansson 13.Patrik Sundstrom 14.Eskil Nordberg 16.Robin Holmlund 17.Daniel Haglund 18.Daniel Selin 19.Robin Johansson 20.Marcus Smedman 21.Claudio
Lineup, match announcements and results, the text in each match, free here!