Saturday 2/6 is the premiere of season.
Note new price for the year 120 SEK / day.
Max 5 fish / paying fisherman.
Cards can be purchased via Swish No.. 1234 442 59 14 or
visitsundsvall.se/göra/aktiviteter
Remember note which card you buy.
Welcome to Holms FVO
Update 3 June: Grass fire at Storjärptjärn
Shortly before noon 18.00 Sunday night received the alarm to the emergency of a grass fire that spread from the fireplace.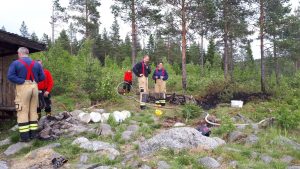 19.00: Emergency services and people from Holm Project "enhanced neighbor" is in place and the situation is now under control. Work to soak the area where the fire "smoldering"/spread over the ground in progress.
Note that fire ban right now prevails throughout the county!
https://www.allehanda.se/artikel/vasternorrland/eldningsforbud-rader-i-hela-vasternorrland-for-forsta-gangen-pa-20-ar