On Liden Health center, we are used to get help when we need it, but yesterday it was announced on Northwest Sundsvall and in Holm Group that now it was they who needed help. The huge onslaught of disease has barely begun for the Region Västernorrland, but there is already a shortage of protective equipment. The slide is a shortage of surgical masks and face shields. Now start Holm district's Development, HBU, own production to make settlements around self-sufficient protective visors.
Want more help, you can leave the equipment at the health center (at intake ambulance) or support HBU, buying plastic and manufactures visors!

After that yesterday went out and asked for help hadet already during the day received several packages of masks that could be spared from Tessan in Sillre and slide foot. To assist with face shield produces now also Holm district's development plastic visor using 3D printers and overhead paper. Patrik Wikholm manages the manufacturing and younger brother Niklas assembles and distributes them.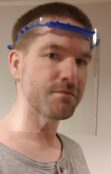 HBU will deliver a stack of face shield to all who need it in care- and care around the Holm-Indal Liden, hopefully already tomorrow Friday. In addition to Liden Vårdcentral , AEven home care services and nursing homes Rutsgården in Liden and Solgarden in Indal get if they are also in need. Have we missed anyone!?
If you want to support the production of protective equipment and the purchase of plastic materials (and the website and everything else we HBU do for the community, of course!) do not hesitate to send 50 SEK for membership till swish 070-537 11 22 or via PlusGiro 197 34 26-8.