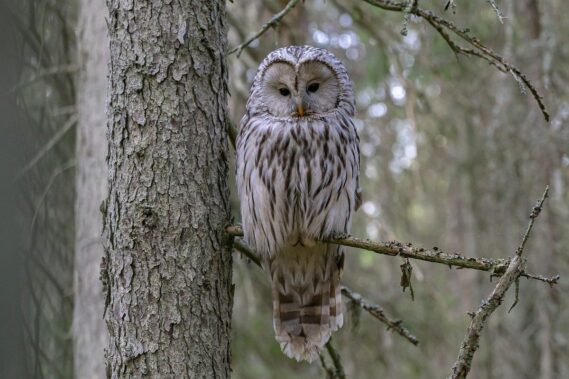 Slagugglan is a "Norrland owl" and the classic barn owl forest is a high-stemmed old-growth forest with pine, containing scattered, dead and stem-twisted stumps like, like chimneys, rises here and there. These stumps are hollow at the top and at the bottom of this hole the barn owl nests its nest.
Chimneys are now very rare in production- the forest, which means that the barn owl does not find habitat.
The chimney-like stumps left in SCA:s FSC-certified forestry does not become "barn owl chimneys" in the long run, but instead provides housing opportunities for hole-building seals and lots of insects in the long run. The barn owl chooses, in the absence of chimney stumps, happy to put big boxes on 3-5 m height. The entrance hole should be at least 20×20 cm and the bottom should be covered with shavings / chips up to 20 cm from the bottom.
The barn owl specializes in small rodents, in Medelpad mainly forest voles and water voles under volcanic peaks. The felling of modern forestry, sparse high-stemmed forest and bog edges are favorite hunting grounds.
Medelpadsornitologerna and SCA Skog AB / Stöde in collaboration in… "A blow to the barn owl!"
The undersigned has built 10 niches of mold plates. Together with the bird inventor Per Helttunen, Torpshammar, we have set them up in the forest management area Sundsvall / Stöde in the second half of October 2020. Some of the nests are set in Holm parish.
Peter Nilsson, predator expert at the County Administrative Board, has been an advisor for holkbygget, the choice of hollow areas and in other questions about the barn owl.
Emelie Westin, nature conservation specialist at SCA Skog in Stöde, is our contact in the "owl project".
A barn owl family with three cubs eats closer 300 kg sork (the weight of a moose!) during a peak year. The forest vole causes damage to small spruce- and pine plants in the felling plantations and is a good climber who forages in spruces and eats fresh shoots. A Finnish research study from 2017 showed that the small rodents cause forest damage in the neighboring country for approx 20 million Euros during a peak year.
It is an economic motive for something for SCA to take care of the great owls in their fields. Peter Nilsson would like a few hundred nests for barn owls and platforms for barn owls in Medelpad to ensure the viability of large owls in forests(use)the landscape.
The purpose is to help the barn owl with settlements in SCA:s production forest (not in nature reserves!). In the long term, the hope is that SCA themselves can help the barn owl through nest boxes in its forest lands.
Per and I follow up with annual breeding inspections during at least 5 year. Breeding is reported both to Artportalen and to the client Emelie Westin. One hope is that SCA will show species protection considerations when nesting takes place in, you. that you do not interfere with forestry near the nest between March and midsummer.
The responsible forest manager in the holka area has been given exact GPS positions for the holkar.
It is gratifying that for a couple of years now, more voluntary provisions have been made on the felling in Central Norrland than in other parts of the country., ie old trees are retained to a greater extent than before in the final fellings. If final felling takes place in a holk area, it is of course desirable that the holk tree and several surrounding trees are allowed to stand..
Peter at the County Administrative Board assists with advice during the project if necessary and will hopefully participate as a ring marker for nesting.
Extended collaboration on patch owl platforms
Now the Medelpads ornithologists have also expanded their collaboration with SCA 10 previously erected patch owl platforms on which the forest manager has received coordinates.
The barn owl is at least as big a predator on small rodents as the barn owl, if not larger. Five barn owl platforms are located in Holm parish.
Sorktopp next year?
It points to a sorghum peak 2021 in Mellersta Medelpad. Safe indicators of that are that:
our pair of barn owls near Navarn near Navarn returned in September after 2 years of absence and
our cat goes up something' hecto a week since some time ago even though we keep her on a diet indoors!
But… there will be heavy rain with thaw in February, as below 2019-20, then the vultures die again. Then the owls go to the top of the field somewhere else or they do not go to nest. We keep our fingers crossed for a sork winter with shouting pearls, sparv, slag- and barn owls in the Holm area's forests.
.
INVITATION
Do you see any kind- or barn owl or have questions about owls in general, you are welcome to call the undersigned 070-5880994 or to Per Helttunen, Torpshammar, 070-2597883 or to Titti Olsson, Östbyn 070-6300617.
.
Bird greetings
/Peter Berglund, hobbyornitolog Navarn
.
PS. Titti Olsson, Östbyn, and I will return with a summary of the bird year 2020 on holmbygden.se in December. We have been contacted by several Holmbor during the year who have seen both "one and the other"….