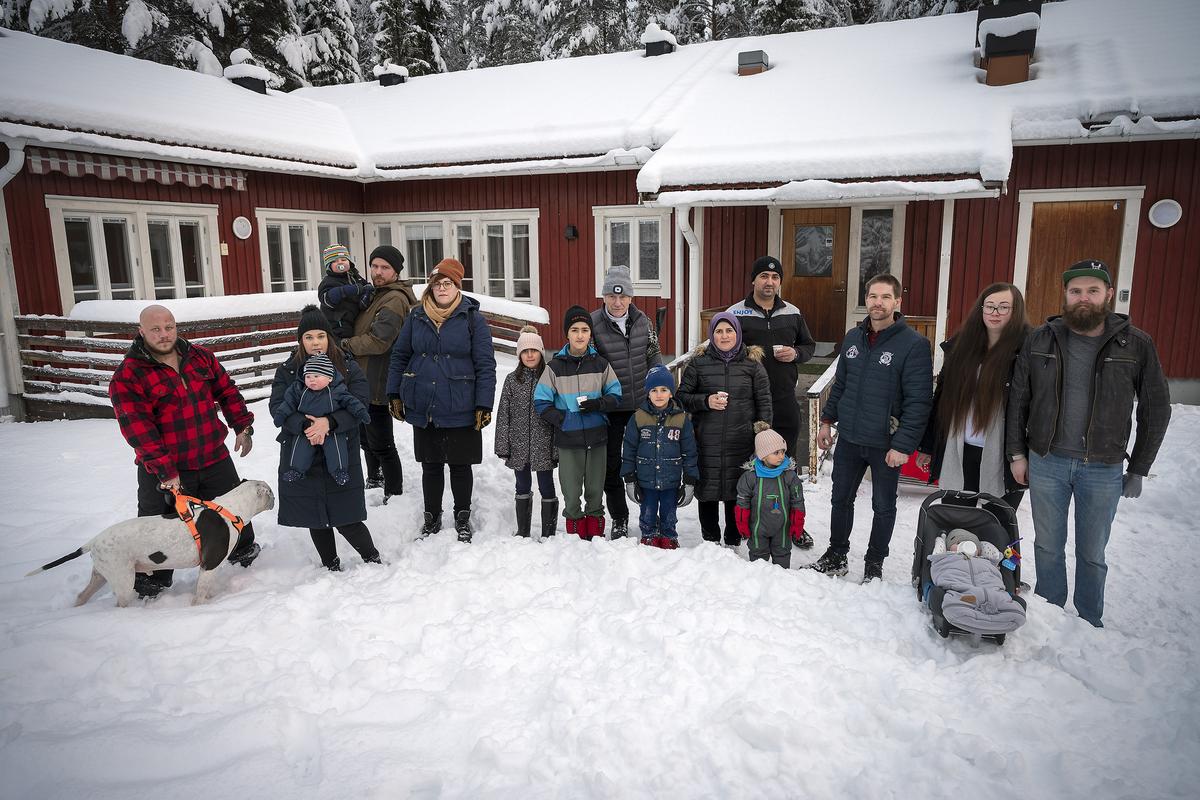 The municipality of Sundsvall has a strategy for the countryside that they themselves do not follow, at least not when it comes to Holm and Anundgård's preschool. It can also be questioned whether they comply with the Administrative Procedure Act and their obligations to provide answers to their citizens., when they after 5 months still not answered parents' expressions of interest to have the children at Anundgårds Förskola. Holmbygdens Utveckling Association, HBU, has also asked the municipality about this, but even those questions are left unanswered. Should a parent have to wait six months for a simple answer, when you want a preschool place?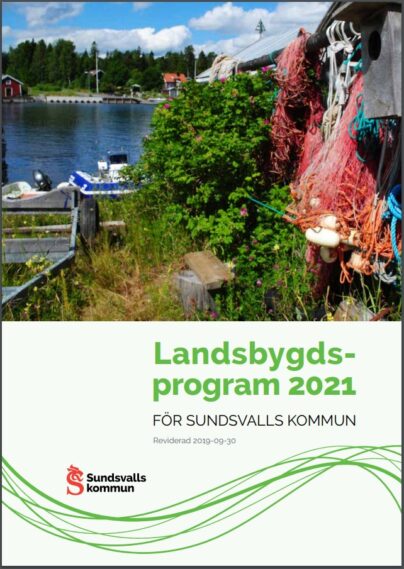 According to Sundsvall municipality's rural program is the vision to have a well-functioning service in rural areas and the main goals of the program are to increase population growth and employment.
This does not seem to be something that applies to Holm, which is the part of the municipality / parish in Sundsvall municipality that is largest in area in relation to population (1,13 pers / km². Source: SCB, Wikipedia).
.
Here, about somewhere in the municipality, in other words, one should work to fulfill the program's visions and goals.
.
Sundsvall municipality's operations have left Holm one by one in recent decades in terms of both housing and other services. Österströms Estate, Senior home, Teachers' residences, home care office, Anundgård's school and most recently Anundgård's preschool. The properties the municipality has sold so far are today owned by companies unrelated to the area and are today fraught with mismanagement and decay.
The preschool in Holm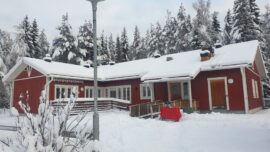 Unlike all other municipal activities in Holm, the preschool is today "only" dormant. The business was paused for 1,5 years ago with a failing child base. One of the consequences was that a family with two children in preschool and leisure time was forced to move as it no longer worked with picking up children with the longer distances to Liden or Kovland, as 2 and 4 miles away, which became the alternative.
Getting the preschool started again is extremely basic service that would really pave the way for population growth and moving to Holm.. Especially families with children. It would also mean a workplace in the village. That is exactly what the municipality in its rural program decided to work for. Since the preschool was put on hold, however, it is unclear how the municipality worked to bring about an opening of it again, if they worked for it at all. Today, one can also ask whether they even oppose an opening.
"Impossible" to register interest in the dormant preschool again
However, it seems very unclear whether Sundsvall municipality really wants to open the dormant preschool again. On their website where they publicly list all the municipality preschools, Anundgård is completely removed and also on the side where the parents via login page can apply for a preschool place for their children, they have removed the option "Anund Farm". It also says nowhere that if it is currently dormant and can be opened if the number of children rises. In this way, the municipality has made that there is no natural way to find information or apply for a preschool place and thus be able to open the preschool again.
The association Holmbygdens Utveckling sought answers from the municipality
To find out what is really required to open the preschool in the village and how to behave, when there is no official way to know the preschool or apply for a place at it, searched HBU, Holm Appliance Development, response from the municipality.
Former principal of Anundgård's preschool (current principal of Liden and Indal), Anna Holter, said that they had talked about before 8 children to have a preschool running and meant that if there are around that number of children, it should be investigated whether it can be reopened.
.
In Children and the Education Administration governing principles the following can be read:
"If the number of children placed in a preschool is less than four, the children should be transferred to a nearby preschool. If the number of children in a preschool is between 5-10 Preschool activities may in part need to be conducted at a nearby preschool some days of the week."
Namely, at more than 4 children, a preschool should be run at least part-time in Holm and if there are more than 10 children, there should definitely be one full-time.

It also says in the principles that "Account must be taken of the administration, the board or the municipality other decided governing documents". One such is the Rural Development Program.
In addition to the Rural Development Program permeating the municipality's work to develop the countryside, it has also been chosen to focus extra on the development of the Holm area in particular., Indal and Liden with a so-called local council. In this local council, with both municipal politicians and local association representatives, Anundgård's importance of preschool for Holm has also been highlighted as the most important point for local development.
Baby boom and moving in provide a basis, but interested families with children are denied answers
As the municipality has not created a channel to be able to register interest in the preschool, said Anna Holter that parents can write to the placement officers' official email mailbox (forskolan@sundsvall.se) to inform the municipality about its interest in a preschool place at Anundgård's preschool, Holm.
As an administrative authority, children and the education administration have an obligation according to the Public Administration Act to provide citizens with service without undue delay. Answering emails and questions is a basic such service. If the municipality refuses or takes an unreasonably long time to respond, you can report to the Ombudsman, ALREADY. The Ombudsman can then criticize the municipality if they have breached their service obligation.
Authorities must provide the individual with such assistance that he or she can take care of his or her interests. The assistance shall be provided to the extent that is appropriate with regard to the nature of the issue, the individual's need for help and the authority's activities. It should be given without undue delay.
About ten parents in Holm wrote to Sundsvall municipality and expressed interest in a preschool place at Anundgård's preschool, but received no response
Under 2019-2020 has had a baby boom and the move of several families has taken place in Holm and today there is a basis for starting preschool again. However, the municipality does not inform parents in Holm, or someone else for that matter, that the preschool could be reopened. As a result, Holmbygdens Utveckling contacted the parents this summer and told them where they could send their interest to the municipality..
In August 2020 wrote parents to more than 10 children in Holm, with children who are 3 years or younger, to the Children and Education Administration that they were interested in a preschool place in Holm and asked when it could reopen. 8 of these children are also first-born and, as usual, they often have a few siblings within a few years. Now in January 2021, almost six months (!) later, For example, the parents have not received a response from the municipality of Sundsvall regarding the request for a preschool place..
In August, HBU also asked a number of questions about how they would proceed with the work of reopening the preschool, but there were no answers.
.
"Have not heard of all these children in Holm"
In November, when no feedback took place after three months, HBU again sought contact with the municipality. Operations Manager for the Northern Preschool Area, Mikael Nilsson Ryttlinger, said then that they had done a demographic survey in Holm and that it only existed 4 children in Holm. He did not know about all the children whose parents wrote to the preschool administrators and the administration, but referred further to the principal Anna Holter again. Anna Holter had also not heard of these children or seen any compilation and thought it was strange that the preschool administrators did not answer the parents who wrote to the children and the education administration.
Questions about the handling of expressions of interest are also not answered – despite legal requirements to answer citizens


.When HBU it 11:In November, the preschool administrators asked if they had made a compilation of all expressions of interest from Holm and if they had answered the parents' letter., then they do not answer.
.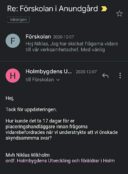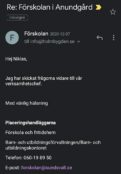 The seventh of December, 17 days later without a response from the municipality, asked the association how it is with the answers to the questions they sent. Then a preschool administrator answered, without writing his own name as the sender in the email response, that he forwarded the questions to their business manager. (On a follow-up question about how it could take 17 days to respond "that they forwarded the questions", when we emphasized that we wanted urgent answers and were immediately informed of the questions, we were referred further, The preschool administrators still did not respond today a month later.)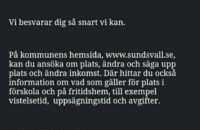 Until today, 11 January 2021, no operations manager or administrator has responded to either the association's or the parents' emails sent in August 2020 and thereafter.
The answers that have arrived on sent emails are only the municipality's email server that sounds good – "We will answer you as soon as we can"…
Read more
Sundsvall Newspaper: They want to open a closed preschool in Holm: "An opportunity for families with children to stay"
SVT: Parents in Holm outside Sundsvall are fighting for a preschool
SVT: The preschool in Holm was closed 2019 - possibly reopens in the autumn