– We live in central Stockholm, two blocks from Stureplansgruppen, and searched it
total contrast. It was found at Holmsjön, i Vike. Norrland
inland, rural area with nature were longing. Another goal was
To find an old house that was not "probes renovated" but so
original condition as possible.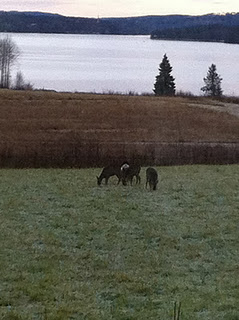 – The vision was to find peace, to sit at the window in the total silence,look over the meadow, beyond, located forest. The
only sound is the grandfather clock ticking. A nostalgic longing for what our ancestors had when most lived in self-catering countryside.
– We found the old träpatrongården overlooking the rolling fields to Lake Holm and Holm's Church. Large is the glazed
porches, holiday, stall, coach, woodshed, härbre, forge mm. Some forest land and we got the bargain and all cost the same as half a room in Stockholm.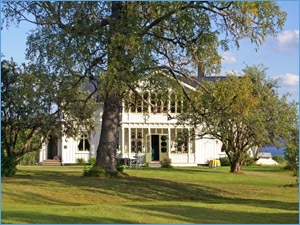 – We started the restoration of the main building and summer to as close 1870 - century version as possible. Away with hardboard on mirror doors, development of the old ådringsmålade pärlsponten, up with period wallpaper, out with the old wooden floors, Improvement of stoves and cookers iron etc.. Some rooms were completely intact from the 1800s.

– We work with leadership development for managers in companies and organizations and has the opportunity to be in our old farm about 40% of the time, all year round.
– Then we had good contact with the people in the village. There was a complementary experience to the overall environment of the northern peace and harmony.
– Now we regularly up stressed Stockholm Managers of seminars aimed at finding himself and the harmony and reflection that is so much needed today.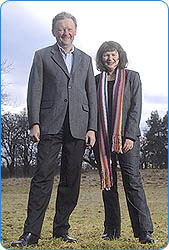 – We found everything we were looking for and more, and longs constantly there when we are elsewhere. We've got the tractor and there is no end to the imagination when it comes to further the creation of the facility. "To see his self-satisfied woodshed and feel the nice smell of pine and spruce and birch are a balm for the soul".
Eva and Per Tärnfors
08-141500, 0692-50050
per.tarnfors@etarn.se
http://www.etarn.se/