Do you have a good idea – large and small?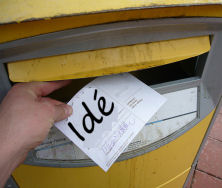 It may be something you think could contribute to a more lively Holm Countryside or any other wise. Only the imagination limits…
Together, we are simply more good ideas. The ideas provided here may eg. used as basis for various meetings on development Holms – whether you can participate. It can also be such that HBU could fix or bounce on the right. Do not hesitate to contact us whatever, No proposal is too stupid!
How do I contribute to my idea?
The easiest way is to use our form on the right. Fill in the boxes and send, clear! Would you please attach any file, document or picture to your proposal, it is also good.


.


It is also possible to email us if it fits better: info@holmbygden.se.


.


Do you want to remain anonymous?
It is of course desirable if you want to tell us who you are, but it can also remain anonymous.
You may want to just be contactable Holmbygden.se (HBU), but anonymous outward with your suggestion is also good. If so, write it below "Personal message".
Send your idea through the website.
All suggestions are welcome.

…