Savvy Hill is a family ski area for large and small with alpine interest. Here are two lifts with a lighter ski for children and beginners, and a longer bolder hill for the little safer. There is also a small sleigh track next to Family Dollar. Savvy slope driven Sundsvall region's oldest and most beautiful – read the article on the hill in ST, 27/1 -13. Backen operated nonprofit of Vette Alpina IF and located at Vättaberget mil northeast of Holm's church.
| | | |
| --- | --- | --- |
| Backen is normally open weekends and school holidays for snow conditions. At Vättaberget is also a warming hut and shelters for grilling and vintermys. | | Vette Alpina's facebook page: |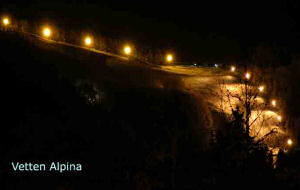 Contact:
Savvy hill skiing vettenalpina@gmail.com.
VD Andreas Hassel 073-0635491.
Treasurer Roy resare 0692-105 11.
Facebook page with info:
facebook.com/Vetten-Alpina-535113153322623