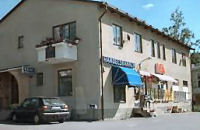 To facilitate inhandling of groceries and cases to clinic, drugstore, bank m.m. is a service bus from Holm to Liden. Do you need help packing the goods, carry in bags or be dropped off at the door at home helps the driver please! Cost is only 25 kr simple, 50 SEK return.
.
You can also get a bag home run! Cost is ONLY 30 kr
(10 SEK to ICA and 20 SEK for home driving). Call the ICA to order your goods; 0692-100 26. Goods are driven home to you the next turn it passes according to the tour list below. Payment is made in cash to the driver or on invoice, in agreement with ICA.
Pssst! Consider yourself on every one else get a bag of groceries packed together, loaded and DELIVERED few mil for 30 kr… is it like regular tobogganing
Service bus tours between Holm-Liden
The tour goes Mon-Tis and Tors-Fri ("QuickTour")
Holm-Liden Mon-Tue, Tors-Fre

09:00 from Gimåfors and Sunnansjö.
09:30 from Anundgård.
10:00 Liden
Liden-Holm Mon-Tues

12:00 from Liden again towards Holm

Liden-Holm Tue-Fri

Thursday- and Friday tours are a quicker shopping trip with a shorter stop at ICA and turns back when everyone was ready.
OBS! Call before you want to go with!
Urban Andersson Taxi 070-563 78 51.



ICA Near Lidens website with this week
offers and store opening hours.L
Read more: "The service bus driver nominated for this year's bus driver in the Home Journal".