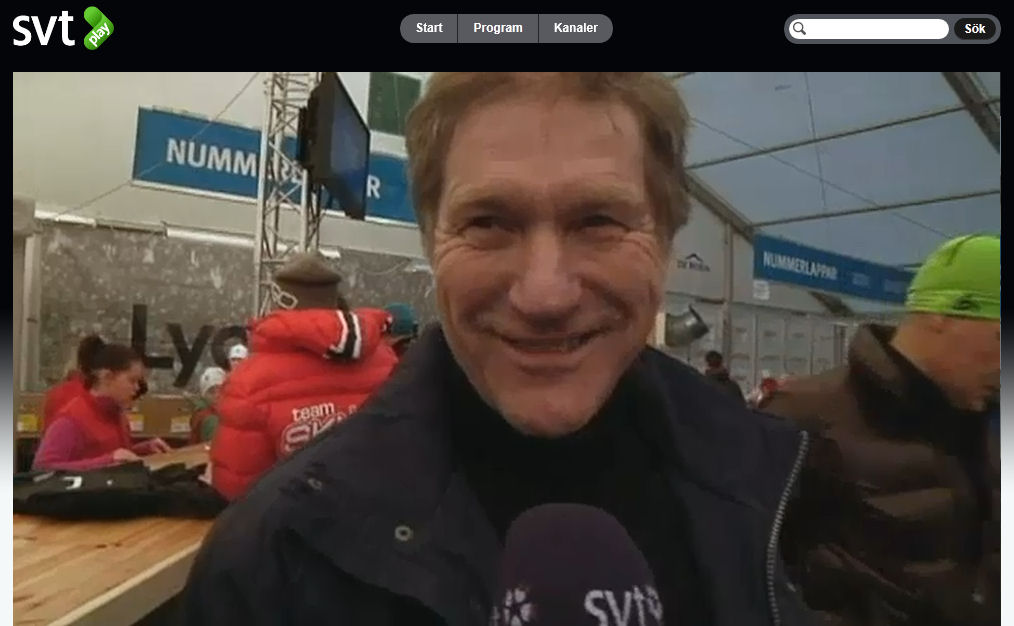 It was a disappointing and somewhat unexpected resolution Indalsälven Liden contribution to Vasaloppet. Two out of the club's skaters were namely admit defeat the mighty showing the tracks. The oscillating weather with strong winds the night before the race gave an unpredictable ski before due. the suction driving snow that lay in the wake. "It was like going to a water bottle jammed during skis", says one of the riders. Both Jonas Modin and Max Wikholm chose to break the mastiga 90 km bansträckningen. The middle son took the opportunity and was able for the first (and perhaps last) time pods before Vasaloppet experienced fancied, now national television celebrity and father across the finish line in Mora. Modin and Jenny and Michael Broman traversed ultimately heroic efforts by ten or twelve hours in Dala forests finishing in the dark.
See the short interview from SVT with Max Wikholm (after about. 1:30 my), intervjuad av Jenny Modin från Liden som både jobbade och skidade under Vasaloppsveckan.
Time Position Name
07:18:04 5665 Wikholm, Niklas See the finish (48:05 my)
10:03:02 1266 Modin, Jenny See the finish (33:01 my) by helicopter spinning rod… =)
11:58:53 12026 Broman, Mikael See the finish (28:53 my)
DNF Wikholm, Max (2527 before the break when Mångsbodarna)
DNF Modin, Jonas (6162 before the break when Risberg)
Intermediate times can be seen on the links above.