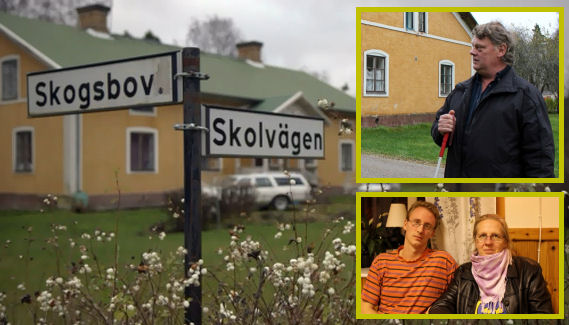 Aros Energy declarations terminates tenants for Missions Review Report reports. Representatives of the company's offer to the Migration Board's asylum accommodation dialing of Östersundsposten, but nobody wants to answer questions.
When Aros Energy certification last spring sent its tender to the Immigration Service for asylum accommodation, among others. a. Holm Tobo outside Uppsala did it with apartments that are already living people. During the summer, has tried to get tenants in Holm differently. Now try to do the same down in Tobo, although tenants have contracts and the right to remain.
Last Wednesday was Assignments review a report on the situation of tenants in Tobo very abuses in Aros Energideklarationers housing. Michael Sterner, the company says in the program that they should start a dialogue and bring order to the errors. Contrary to a good dialog reports Arbetarbladet that Aros Energy declarations now instead want to throw out tenants in Tobo. Tenants Association stands now on the residents' side.
The process of throwing out their tenants recognized from Holm. Marcus Hamberg, who is the majority owner of Aros Energy declarations even threw out his oldest tenant in Holm last year. Although she lived there ever since the municipality owned the property, she was forced by Maru Hamberg companies Fagerhyltan to leave his home in Holm. In just 20 days, she would be gone.
- I do not want to move because I lived all my life in Holm, she said.
20/4 2012 ST: Now emptied houses in Holm Read more about the tenant who was thrown out.
Östersundsposten also wrote yesterday several articles of Aros Energy declarations and another company, Firma Tea Widéen. At several locations in the neighboring county, the two companies sought bids for asylum accommodation. According to the outline lacks both companies leases and deeds of the properties of their asylum accommodation, even though they have written that they are the owners of the Swedish Migration Board.
RIP calling Migration Board works Counsel Kent Juhlén and asks if he can not find it strange. – "Already, I think so. It is in this case a false statement", he answers. Kent Juhlén says that the Migration Board investigates companies.
RIP also rings up Tea Widéen, but then responds instead Teas daughter Pia Karlsson from Bracke. A Pia Karlsson with telephone Bracke is also the contact person for Aros Energy declarations and Bracke is only one Pia Karlsson.
RIP ask if it is she who is the Pia Karlsson Aros Energideklarationers tender.
- No, it's not me, corresponds Pia.
How can it be that you happen to have the same name?
- I can not answer that, I do not know what Aros Energy declarations are and do not understand what you're talking about, says Pia Karlsson.
Pia Karlsson and former owner "Skandalhusen" in Holm Johan Stendahl had together before an asylum accommodation in Hälsingland that got shut down by a scandal, including unpaid VAT and payroll taxes.
Links to articles
25/11 KISS: Migration Board investigates companies
25/11 KISS: Here, they want to start a refugee accommodation
25/11 KISS: Several tours around the asylum accommodations in Bracke and Strömsund
25/11 KISS: To start asylum accommodations - but no agreement
21/11 Arbetarbladet: Tenants ejected from their homes
20/11 SR P4 Uppland: Accommodation at Skolvägen "You leave the houses more or less adrift" Listen to radio reports about the apartments, explained that health risks.
20/11 property News: Mandate Review in Tierp
27/10 SR P4 Uppland: Mold and water damage should be removed in Tobo