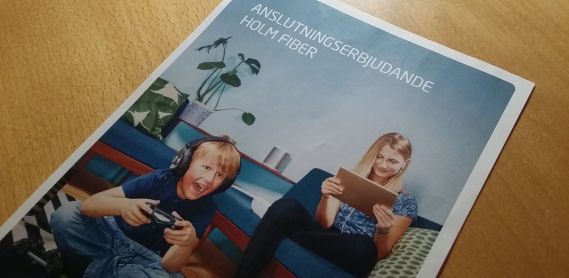 Now it's finally time to connect Holm district with fiber broadband. These days Holm Fibers members received an offer in the mailboxes where until 31 March may join for a discounted price of 18 400 kr (1500 kr drawn from words. Price on 19 900 kr). Even those who do not want to use the service today, can connect the house for future needs!
Hard work since October 2013
It is after about 3,5 Years of hard work by Holm Fibers board with members signings, meetings, applications mM. as it is now clear that it is ServaNet that will pull the net in Holm. ServaNet is also the company that will do the interurban fiber network from Sundsvall, which means that more people will be able to join since even outside Holm Fibers catchment.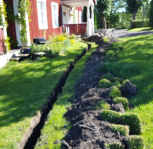 Included digging to the house of the offer
In the earlier stages, there has been talk of the compound itself must arrange for the burial of the cable in Holm and you yourself could possibly stand on its own digging last bit up to the house wall. The offering today is, however, both digging all the way, and holes in the wall. We do not know today if you want or need the services of the network, you can also wait with the subscription. In this way, the house still connected to the network, which in itself raises the property value is far more than the cut cost. The schedule is to put the shovel in the ground in three months, in June.
Holm Fiber Ekonomisk Förening
The association, continues to monitor the process of fiber drawing today, although ServaNet taken over the application and assignment against the County Board. However, it is now up to each individual to choose whether to have the fiber or not. There is thus no single compound choice for this. What role Holm Fiber then will have henceforth will be presented and discussed at the annual meeting in late spring and finally decided by the members. Read more here about Holm fiber and previous articles.
NEWSFLASH for ServaNet offer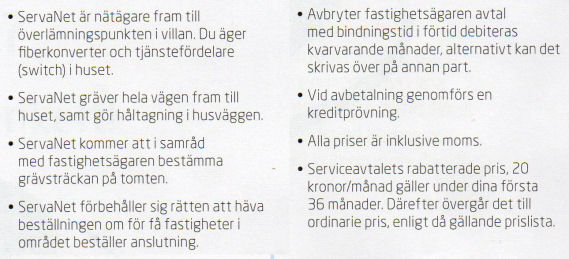 For more information about the range of services, calculation example, conditions mM. can be found in the mailing.
Not only fiber network
Like a lot of other rural development is the expansion of broadband in Holm not only about the thing itself – a fast Internet connection, TV services and IP telephony. To develop the district together create basic conditions for the future. To summarize the need to be on the trip can Holm Fibers Board first Facebook post quoted; "We want to present the work in progress to ensure that our homeland will have access to the vital broadband network to our homeland to continue to live and develop in the future. Let's be to give our children and grandchildren and the other an opportunity to live in our beautiful homeland."